Paulo Dybala scored a hat-trick as Juventus shrugged off the absence of superstar Cristiano Ronaldo with a 3-0 Champions League Group H win over ten-man Young Boys on Tuesday to stretch their winning streak to nine games in all competitions.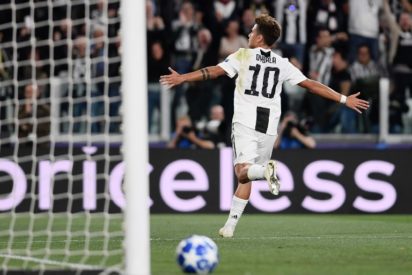 Suspended Portuguese forward Ronaldo watched from the stands after his red card during the Italian side's 2-0 win over Valencia in the first round of games.
But Dybala, who has been overshadowed since the arrival of Ronaldo from Real Madrid, ran riot in his first European appearance this season, volleying in the opener following a Leonardo Bonucci long ball after five minutes.
He doubled his account on 33 minutes when he picked up a rebound from a Blaise Matuidi shot, with Juan Cuadrado setting up the Argentine for his third on 69 minutes.
The Swiss champions played the final quarter of an hour a man down after Guinean centre-back Mohamed Ali Camara was sent off for a second yellow card provoked by Dybala.
"I wanted to have a game like this," said 24-year-old Dybala.
"Obviously, a player always wants to play. Last season I had the opposite, as I started with a lot of goals and then lost my way a little.
"Being left out made me work harder and get back into shape, so I am taking full advantage of that now."
Juventus confirmed their 100 per cent record after nine games this season — seven league games and two in the Champions League.
"We were without Cristiano, and at times it is easier with him in the side, but we have to be a great team both with and without him," added the Argentine.
It was Young Boys' second defeat from two group games after they lost their opener 3-0 at home to Manchester United, who were hosting Valencia later on Tuesday.
Dybala shone but so too did the rest of the Italian team, with Cuadrado, Miralem Pjanic and Federico Bernardeschi on form as The Old Lady of Turin had too much talent for Young Boys.
The Swiss risked going back to Bern with an even heavier defeat, with Bernardeschi missing a chance after quarter of an hour and a Bonucci late header just off target.
A penalty should have been awarded for a foul by Steve von Bergen on Dybala four minutes after the break, just after the Argentine again hit the post.
With the game in the bag, Juve coach Massimiliano Allegri stuck to his game plan, bringing on Germany's Sami Khedira for the last 20 minutes to help him back to fitness after a muscle injury, while 18-year-old forward Moise Kean also came off the bench.
Next up for Juve is a double-header against Jose Mourinho's Manchester United, with a trip to Old Trafford first on October 23.
AFP
Source: https://www.vanguardngr.com/2018/10/dybala-hat-trick-as-juventus-overrun-young-boys-without-ronaldo/