Diego Simeone admits Atletico Madrid are dreaming of playing in the Champions League final at their home ground, which he described as "the most beautiful stadium in the world".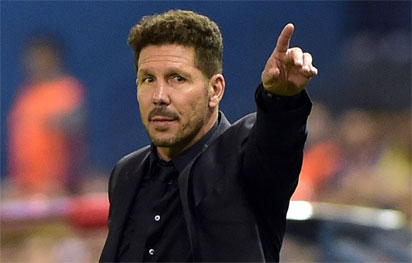 This season's showpiece match in June will be staged at the Wanda Metropolitano, which has been Atletico's stadium since last year.
They host Club Brugge there on Wednesday, after making the perfect start in Group A with a 2-1 win away to Monaco.
Atletico have reached the Champions League final twice in the last five years, losing both times to rivals Real Madrid.
"It is complicated," Simeone said. "People have the dream and the dream in life is the greatest thing there is.
"To achieve such a beautiful goal, which everyone is really motivated for, to get there you have to work, to win many matches, and face many rivals and there is still a long, long road ahead.
"It is normal that people are excited. They have the right to be excited as anyone would be if the final is in your stadium that is the most beautiful stadium in the world."
Atletico endured a difficult start in La Liga after managing only one win from their opening four games.
Beating Monaco has sparked a resurgence, however, and they will entertain the Belgian champions on the back of three wins and a draw away to Real Madrid. Club Brugge opened their European campaign with a 1-0 home defeat by Borussia Dortmund.
"Since Monaco, we have got better and better but we have to be consistent," Simeone said.
"It is the hardest thing, to keep the pace, to find the best ways for the next match. It will be a tough game against Brugge, who caused problems for Dortmund too."
AFP
Source: https://www.vanguardngr.com/2018/10/atletico-driven-by-dream-of-champions-league-final-at-home-simeone/