By Dayo Adesulu, Joseph Erunke & Oghenefego Obaebor
FOR the first time in decades, authorities of the Joint Admission and Matriculation Board, JAMB has introduced biometric identification verification exercise as a must before entry examination centres as candidates commence the 2019 Unified Tertiary Matriculation Examination, UTME slated for 11 to 15 April.
Many candidates have expressed their fears of the ability of JAMB's Staff and the efficiency of the technology for conducting the biometric exercise before the 1.99 million candidates enter examination centres. ''What happens if there are failures on the part of some gadgets,'' they asked.
Biometric identification is a technology that identifies and authenticates individuals based on physical characteristics. A biometric identification system includes fingerprint identification, iris and retina, facial recognition, gait, or voice. However, the focal point for JAMB is the fingerprint.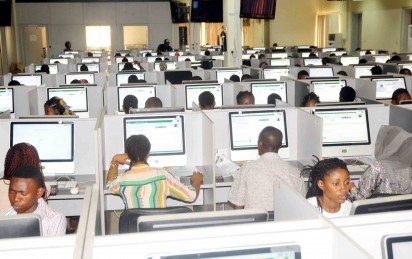 While many stakeholders lauded the registrar's initiative, some experts say biometric scanners don't allow for 100% accurate scanning. They explained that when a user places their finger on the scanner, the slightest offset for a fraction of a millimetre, a change in pressure, skin damage and other circumstances always affect the resulting image. Consequently, the scans of the same finger or face will always be different.
2019 UTME: JAMB stops use of cyber cafes for registration of candidates
Biometric companies are aware of these flaws in the technology and are aiming to improve identification. One of the ways adopted to deter inherent downfalls of biometrics is requiring more than one fingerprint scan to improve accuracy.
David Balaban from Infosec said the key hurdles to biometric authentication include: "Large volume of data, inaccurate matching, different people having similar biometric characteristics and high probability of compromise.
Meanwhile, in the quest of the Joint Admissions and Matriculation Board,JAMB to allay the fears of candidates over biometric verification, has said that the captured of candidate's ten fingers have made it impossible to record disappointment during biometric verification.
JAMB's Head of Media, Dr Fabian Benjamin who spoke to Vanguard explained that ordinarily,it would have captured less fingers but decided to get the whole ten fingers to serve as backup in case of failure.
To this end, he asked stakeholders not to panic over possible failure in the biometric verification, insisting that with the development, no candidate may be disallowed from examination centre, adding, it was not possible for any candidate's whole ten fingers captured to fail the biometric verification.
According to him, the strong mechanism it has put in place, non of the 1.99 million Nigerians may have issue with biometric verification that could result to being denied entry to examination centre.
The board, reacting to Vanguard's inquiry on the mechanism it put in place to ensure no candidate suffers unjustly by not writing the examination due to biometric verification issue, Benjamin maintained that it was practically impossible for candidates not to scale through the biometric verification, given that the ten fingerprints of all the candidates were captured.
His words: "You know, we are capturing ten fingers and we believe that ten fingers are sufficient enough for any backup in the biometric verification."
"Just like the registrar has explained, in every ten human beings, it's difficult to even have one that would have issue with biometrics.
"So, in every one million,you may just have less than one human being and so when you look at the whole world,you may just have maybe less than 500,000 in the whole world that may have biometric issue.
"So in Nigeria,they should be less than even a 100,000. So by the time you take one million candidates and then you examine them,you would be having less than three, four or five people that will have biometric issue.
"And given the fact that the whole ten fingers of the candidates were captured, the rate of challenge or whatever it is, would be far below what should be of concern to anybody."
In her reaction, Suliat Elemosho who registered for the present UTME said:
''What if the system actually goes wrong or develop a fault at the moment of the exercise, it simply means the candidates that has not been verified won't be able to participate in the exam.
I also feel they are trying to watch all candidates during the examination. This exam is the cheapest of all, so bringing this kind of thing right now makes me think they don't want much people in the exam hall.
Moreover, Faith Chikwedo posited that the biometric exercise might not work in all the centres. She said: ''It might not work in all centres that's what I found out because it is a new procedure that is been introduced this year. So, most people will not believe it and will still want to go through the normal process they have full knowledge of, so most centres might not make use of it.
The biometric verification might not capture everyone and this will make some people miss writing the exam.''
For Deborah Komolafe, who is about writing the UTME for the second time said she was already aware of the biometric exercise.
According to her, It will be a nice thing to be done, adding that it would eradicate the process of someone else writing the examination for another.
On her part, Oluwagbemiriye Jesuwibe Oghenekevwe was optimistic that the development would reduce the rate of examination malpractice in the UTME examination.
You have to read well to pass an examination, you can't just pay someone to write the exam for you, you need to know your worth as a person.
Besides, it was also the opinion of David Ifeoluwa Emmanuel, a UTME candidate that
the biometric exercise would reduce or totally eliminate machinery during examination.
If this is implemented, there will be fare examination conduct in the country.