By Oghenefego Obaebor
THE Vice-Chancellor, Chrisland University, Abeokuta, Ogun State, Prof. Chinedum Babalola has advocated for the involvement of graduates in our economic development. This just as the institution matriculated 70 students into the various departments.
Babalola who spoke during the fourth matriculation ceremony posited the involvement of graduates in the economic development of the nation, adding that this will also help to shape the economy of the country.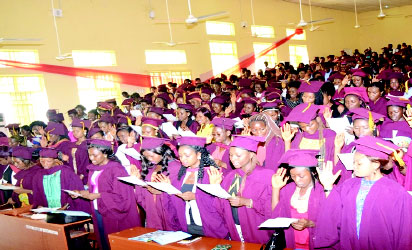 She told the freshers: "There is a wealth of potential within you. But you must decide if you will deprive the world or bless it with the valuable, potent, untapped resources locked away within you. The fact of the matter is this, no one can limit you, but you, no boss, no teacher, no partner and no colleague. We have potentials worth and if we are willing, great things are possible. You can be a limit breaker.''
Speaking further, the Professor of Pharmacy described the future of the institution as very exciting, rewarding and remarkable as students will be graduating with entrepreneurship certificates alongside their degrees.
On accreditation of courses, the VC said the institution recorded a 100 percent accreditation of all her nine courses in both Colleges of Arts, Social and Management Sciences and Natural and Applied Sciences for the first exercise.
"It is indeed a feat for us because it is the same yardstick, the same tool used for universities that are there before us that are being used during the accreditation exercise."
Babalola also disclosed that the institution will expand its programme to include the College of Medicine and Health Sciences, Industrial Mathematics, Statistics, Biotechnology, Physics with Electronics, Cybersecurity and Software Engineering.
Earlier in his matriculation lecture, Managing Director, Forte Upstream Services Limited, Mr. Oluseye Alabi told the students to avoid anything that will not positively support the attainment of their objectives in the university.
"My admonition to you to work hard is not to make you what is colloquially referred to as triangular students but you must endeavour to enjoy yourselves by engaging in positive social activities."
On what is expected of them, Alabi charged the new students "Please for the sake of those coming behind you, use this boundless energy to make a positive impact and be a blessing to society".
In her remarks, the Chancellor and Chairman, Board of Trustees, Dr. Winifred Awosika assured parents that the university would return their children as thoroughbred.
morally upright, academically savvy and leaders that will turn the country positively.
The Alake of Egbaland, Oba Adedotun Aremu Gbadebo, who was the Royal Father at the event, lauded Dr. Awosika for the establishment of the university on Egba soil and urged the students to make the best of the opportunity to secure a space for learning at the institution.