By Yemi Olus
At the beginning of 2019, the Nigerian Athletics scene witnessed an exodus of a good number of upcoming athletes who have since made their way to the US to commence studies at various universities and colleges.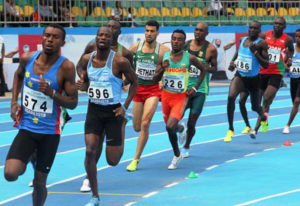 Group hails Buratai, Army over election security, sues for continuous loyalty 
They include the reigning African Champion in the women's Triple Jump, Grace Anigbata; Long jumper Benjamin Arinze; hurdler Bashiru Abdullahi; 400m runner Knowledge Omovoh and a host of others. While their leaving may create a sort of gap within the domestic scene, one can't help but feel that their relocation to the US is for good, especially when you consider that these athletes must definitely have something (like a degree) to fall back on when they're done with Athletics.
In just a few weeks of being in America, Anigbata's technique in the High Jump has improved rapidly, even though the Triple Jump is her main event. Of course she is likely to improve in the event now that she is being exposed to better facilities, training techniques, coaching and so on.
Talking about how schooling and competing in the US has rubbed off positively on our athletes brings to mind the attention Divine Oduduru garnered on social media a few weeks ago after running a School Record of 6.56sec to win the men's 60m at the Texas Tech Shootout.
Although that was an impressive performance when you consider that his time made the Top 10 Nigerian all-time list, what drew the attention of people was his new look while donning the red and black colours of Texas Tech. Just like 7Up, the difference was indeed clear! Oduduru looks so much better and his complexion now glows – a sharp contrast from his appearance while he was in Nigeria. Of course just being in an environment where he is well looked after, has made a world of difference.
It is no wonder that he has run much faster since relocating to the US. Last year he set Personal Bests of 10.10sec and 20.13sec in the 100m and 200m and who knows, 2019 may just be the year when Oduduru runs under 10sec. It's been a long wait for Nigeria's next sub-10sec runner since Olusoji Fasuba clocked the African Record of 9.85sec in 2006 – 13 years ago!
Oduduru's institution, Texas Tech, will be competing at the Big 12 Indoor Championships in Lubbock, Texas, this weekend and all eyes will be on the Nigerian to see if he can better Deji Aliu's 60m National Record of 6.48sec set in 1999 (the record was 20 years old on Thursday, February 21st).
The world began to pay attention to Oduduru after he won the National Collegiate Athletic Association (NCAA) 200m title last year, and his recent performances have also earned him a place on the Bowerman mid-indoor watch list. The Bowerman is considered the highest accolade a collegiate track athlete can earn.
Meanwhile Oduduru is not the only one setting records since relocating to the US. Middle distance female runner Abike Egbeniyi who schools at Middle Tennessee State University (MTSU), set a Nigerian Record of 2:03.77 in the women's 800m in January while racing at the Vanderbilt Invitational in Nashville, bettering her former record of 2:04.47 set at the same competition in 2017.
Tobi Amusan is another athlete who has made great strides since moving to the US a few years ago after securing a scholarship to University of Texas El Paso (UTEP). Now in her final year, Amusan forfeited her eligibility to compete for UTEP after securing a professional deal with Adidas after winning the NCAA title in the 100m Hurdles in 2017. She has since added the African Championships and Commonwealth Games Gold medals in the 100m Hurdles to her kitty. She also won a Bronze medal in the 4x100m at last year's Commonwealth Games, making her the only Nigerian at the Games to win two medals. She also added a Gold in the 4x100m in Asaba. Amusan is set to compete regularly at the IAAF Diamond League, which is the most prestigious league in Athletics, having made her debut appearance in the league last year.
Over the years, Nigerian athletes have pulled their weight in their respective institutions abroad since the days of the likes of Innocent Egbunike (Azusa Pacific University) who won Gold in the 200m at the 1983 World University Games; Olapade Adeniken (the first Nigerian to run a sub-10 in the 100m) who was a two-time NCAA Champion for UTEP, as well as Blessing Okagbare who won double Gold in the 100m/Long Jump at the 2010 NCAA Track and Field Championships. Here's wishing our latest Freshmen the very best.
Source: https://www.vanguardngr.com/2019/02/nigerian-athletes-and-search-for-greener-pastures/