Who will be the key players when Manchester United face Liverpool? Skysports Soccer Saturday pundits spoke on their expectations ahead of tomorrow's clash at Old Trafford.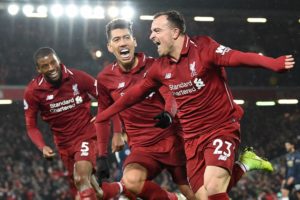 Casillas behind anti-De Gea campaign, says Mourinho
Phil Thompson: I think in this game it will be which side defends better. Both attacks are so good on their day, even though United have some injury concerns, so then it will be who defends best.
Assessing Utd's gap to Liverpool
Over the last few of these clashes, Jose Mourinho has 'parked the bus' which has infuriated a lot of Manchester United fans, so this has got the making of a really good Liverpool vs Manchester United match. Ole Gunnar Solskjaer will stick to the virtues of Manchester United and have a go and Liverpool will enjoy that and have a bit more space than they did against a Jose Mourinho side.
Paul Merson: I think Virgil van Dijk will be key for Liverpool, but also the front three.
They look tense and it's not as great to watch as it was earlier in the season. They seem nervous in front of goal. But Manchester United's strengths are going forward so Van Dijk has to play a role in stopping that.
Then for Manchester United it would be Luke Shaw against Mohamed Salah. If he can keep Salah quiet then you don't see too many stepping forward for Liverpool at the moment. Firmino isn't scoring much and Mane looks a bit short of confidence.
Matt Le Tissier: I think the game will be fairly open and attacking. I don't think Ole Gunnar Solskjaer will be parking the bus which might have been the case with Mourinho. I think the outcome of the game will be decided by the attacking players.
Salah, Sadio Mane and Firmino know each other inside out, so they will take serious beating.
Charlie Nicholas:  David de Gea for Manchester United. The early part of the season was the weakest I have seen him but he still kept United in some games when they were awful. Now they are fourth because of people like him.
Paul Pogba and Marcus Rashford have been great and Jesse Lingard has scored goals, which has improved United, but De Gea has been keeping it going all along. He will be the key to what Liverpool will throw at them. If he can keep them in the game then United will think they can nick something. They will be the counter-attacking team and I wouldn't be surprised if United draw or even win the game. It doesn't mean they are the better team but it's just the circumstances.
I think the key player for Liverpool would be Firmino.
Source: https://www.vanguardngr.com/2019/02/man-utd-vs-l-iverpool-players-to-watch/