Up and coming Nigerian  sprinter, Blessing Ogundiran has revealed how she was kept in a police cell for nine days, after being accused of spiking Onome Nathaniel's food, while in camp for the African Championships in Asaba, Delta State.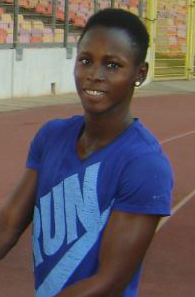 Earlier in November, Ogundiran was arrested on the prompting of coach Hakeem Oyewole Tajudeen who accused her of putting drugs in the food she prepared for Nathaniel and other athletes whom he was coaching while in the national camp. Nathaniel won the African Championships 400m women gold, but she has since been stripped of the medal and given a suspension pending when she would get a dope hearing.
"I was in my home at Oshodi, Lagos when SARS operatives came to pick me up.
"They put me in handcuffs and led me away as if I was a criminal. While in the SARS cell, they kept asking what I knew about the dope in Onome's food.
"They also accused me of stealing 200 dollars and their gold chain. But I didn't steal anything or cook any food talk-less of putting drugs in someone's food.
"In fact while we were in camp it was coach Akeem that was injecting us with supplements. I never knew what they were. I was injected in my arm twice.
"While I was in the cell he came to me and told me to confess to putting the drug in Onome's food. Even Onome Nathaniel's and Yinka Ajayi at some point urged me to confess to something I knew nothing about.
"And my reply was that if I ever put banned drugs in Onome's food or stole like they accused me, then let me rot in this cell. But if I didn't, God will take me out.
"And so on the ninth day the SARS people now realised that I was being framed  for something that I didn't do and they let me go," said Ogundiran.
No justification for Nigeria to be import dependent – Expert
Already the Athletics Federation of Nigeria has set up a committee to look into the matter with a hope of revealing the circumstances that led to Ogundiran being detained.
"This is a rather strange case. We have set up a panel to look into the matter and there will be disciplinary measures if we find out that things have not been done properly," said an official of the AFN.
Ogundiran said she was waiting for the outcome of that panel."If I'm not satisfied I will be pressing for redress in the court of law, because my human rights have been infringed upon and my name soiled by this episode.
Contacted on phone to speak his own side of the story coach Akeem Tajudeen said. "I don't have anything to say on this matter now, perhaps at the appropriate time I will make a comment on what I know."
Source: https://www.vanguardngr.com/2018/11/asaba-2018-fall-out-i-didnt-put-banned-drugs-in-onome-nathaniels-food-ogundiran/