…As Enugu Govt. honours AITEO Cup Champions
The former Governor of old Anambra State and chieftain of the All Progressives Congress (APC), Senator Jim Nwobodo, has applauded Governor Ifeanyi Ugwuanyi of Enugu State for his commitment and contributions to the remarkable feats recorded by the Rangers International Football Club of Enugu, in lifting the 2015/2016 Nigerian Professional Football League (NPFL) trophy and 2018 AITEO Cup after 32 years and 35 years, respectively.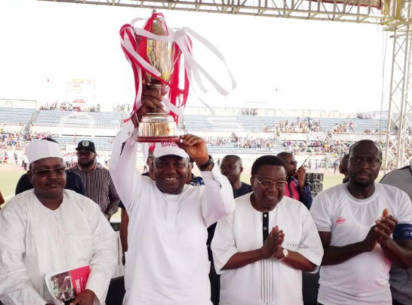 Senator Nwobodo,who narrated how he became Governor of old Anambra State through his passion and support for Enugu Rangers, expressed delight that after 32 years the club did not win a trophy, "Gov. Ugwuanyi whose name is also Ifeanyi" came in and opened the door of victory for the club.
Speaking at the grand reception for the 2018 AITEO Cup Champions, the former governor described the club's recent feat as "the miracle of Asaba" made possible because Gov. Ugwuanyi's entrustment of Enugu State into the hands of God.
Salah battles Ighalo snatches winner as Egypt edge Tunisia in Cup of Nations
He said that football is a unifying factor for all segments of the society and  stressed that Rangers' outstanding performance under Gov. Ugwuanyi's administration has united everybody in the state, saying: "I am here because of Rangers and Gov. Ugwuanyi".
Describing Gov. Ugwuanyi as his "junior brother", Senator Nwobodo stated that he was happy with his style of leadership and commitment to God, maintaining that the AITEO cup won by Flying Antelopes in Asaba was a miracle and "only God performs Miracle not Satan". He therefore congratulated the new Champions for doing the state proud.
In his address, Gov. Ugwuanyi, who dedicated the trophy to God, stated that the event was "in thanksgiving and praise to the merciful Lord for yet another prayer that He has answered and for all that He has been doing for us in Enugu State".
According to him, "for 35 years, the club had labored in vain for victory in the National Football Challenge Cup having won its last trophy in the competition in 1983. Again, by the special grace of God, that jinx was however broken on the 24th of October, 2018 when, in what is now popularly referred to as the "Miracle of Asaba", the club came back from a 0-3 deficit to defeat the Kano Pillars Football Club and win this year's edition of the competition now known as the AITEO Cup".
The governor, who disclosed that he was "profoundly grateful and humbled" that the remarkable achievements were happening under his watch as Governor of Enugu state, also expressed gratitude to the management, coaching crew and players of the club for their sacrifices, hard work and commitment.
He equally thanked all stakeholders and teeming supporters of Rangers across the country and beyond, including the people of Enugu State, for their fervent and unceasing prayers "for this day of glory as well as the overall success of our administration".
Justice Umeadi swears in new chief registrar, five deputy chief registrars in Anambra
Gov. Ugwuanyi further stated that his administration has resolved to restore the legacy of Enugu State as a centre of sports excellence and breeding ground for sporting talents in the country, noting that "as a government, we have always believed that sports offers tremendous opportunities for economic growth, empowerment, employment generation, poverty alleviation as well as progressive youth and social development".
He therefore, reassured Rangers' fans and the people of the state of his administration's unwavering support and assistance to the club as it continues to pursue both national and international glory next season.
Source: https://www.vanguardngr.com/2018/11/gov-ugwuanyi-has-restored-rangers-dignity-senator-nwobodo/