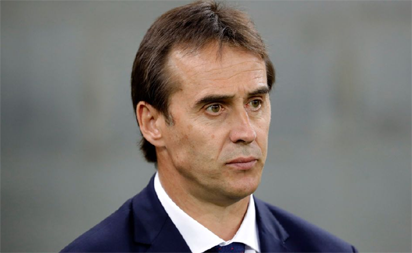 Julen Lopetegui insists he believes in his struggling Real Madrid team more than ever and remains calm about his future despite their 2-1 loss at home to Levante on Saturday.
Madrid made it five games without a victory at the Santiago Bernabeu, where they also set an unwanted record for the longest goal-drought in the club's history.
By the time Marcelo had finally found the net in the second half, Lopetegui's team had gone 481 minutes without a goal, passing the 464-minute dry spell Madrid endured in 1985.
Levante held on after scoring twice in the opening 13 minutes, as Jose Luis Morales and Roger Marti capitalised on mistakes by Raphael Varane. Roger scored from the penalty spot after Varane had handballed.
Asked about his future, Lopetegui said: "This is the last thing I am thinking about. I am only thinking about lifting the players quickly.
"We have a very important game in the Champions League in three days."
Madrid host Viktoria Plzen on Tuesday, looking to atone for a shock 1-0 defeat by CSKA Moscow last time out. They then face Barcelona at the Camp Nou on Sunday.
"I feel more encouraged than ever, I believe more than ever in this team," Lopetegui said.
"For the effort they have made and for how they have reacted to their misfortune. The team has left everything on the pitch and this is the way to turn the corner, there is no other way."
Lopetegui admitted he had witnessed a "sad changing room" after the match and his team were certainly not blessed with luck.
They hit the woodwork three times and suffered a two-goal swing as a result of the Video Assistant Referee. Roger's penalty had been upgraded from a free-kick before Marco Asensio headed in at the othe end, only to have his goal ruled out for offside.
"It is clear that it is not deserved," Lopetegui added. "But football is won by goals, not merit. We have done everything we think we have to do."
Defensive mistakes, however, could have allowed Levante to add to their early double while a lack of composure in front of goal was just as much to blame as misfortune.
Levante, meanwhile, continue their upward momentum under coach Paco Lopez, who took charge in March and steered them to survival with eight wins from 11 games.
They now sit seventh in La Liga, just a point behind Madrid in fifth.
"In the team-talk I told the guys that talent has limits, but faith and conviction do not," Lopez said.
"This team believes in what they are doing and I'm super proud of them.
Source: https://www.vanguardngr.com/2018/10/i-believe-in-real-madrid-more-than-ever-lopetegui/