The Nigeria Football Supporters Club (NFSC) says the Super Eagles of Nigeria's 3-2 victory over the Mediterranean Knights of Libya at the 2019 AFCON second leg qualifier is a refreshing relief.
The club's National Chairman, Samuel Ikpea, told the News Agency of Nigeria (NAN) on Wednesday that the national teal put up an impressive performance in the match played in Tunisia on Tuesday.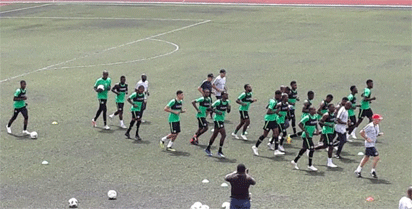 Ikpea said the body was delighted because its support was making impact in the activities of the Super Eagles in their bid to book their place in the 2019 AFCON.
"I commend their brilliant performance and the wonderful technical input in the team by the coaching crew, that indeed is a refreshing relief for us.
"We are solidly behind the national team in the AFCON qualifiers, cheering and drumming support for them because victory for the Super Eagles is victory for Nigeria," he said.
He noted that there was need for the Super Eagles to qualify for the 2019 AFCON, as Nigeria did not feature in the last two editions because it did not quality.
According to him, fans in the Diaspora and the nation at large were hopeful that the Super Eagles of Nigeria would qualify and make a mark in the 2019 continental football competition.
The NFSC chairman expressed optimism that with consistency by the Super Eagles, they would regain their their pride of place among top football playing nation.
"Their general performance in the 2019 qualifying series has been encouraging, and if they continue with this trend, I strongly believe that Nigeria will be part of next year's AFCON," he added. (NAN)
Source: https://www.vanguardngr.com/2018/10/2019-afcon-supporters-club-describes-super-eagles-victory-as-refreshing-relief/