The African Democratic Congress (ADC) on Wednesday commenced moves to make the former Adamawa Governor, Murtala Nyako, its Chairman of Board of Trustees (BOT).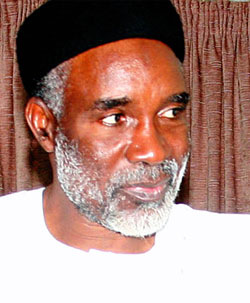 The party leadership, led by the National Chairman, Chief Ralph Nwosu, visited Nyako at his Abuja residence  to present the nomination letter to him.
Speaking while presenting the letter, Nwosu said that the party searched around the country and found the former governor worthy of nomination for the office.
Defection rumour: I stand with Buhari — Amosun
Nwosu said that members considered his political strength, capability and wide followership before deciding to approach him for the offer.
According to him, having critically studied Nyako over time, the party unanimously decided to issue him the nomination as the party's BOT chairman to help push the party to the next level
"We decided to make this move since integrity is now the yardstick to measure the standard of political parties," he said.
PFN condemns killing of Red Cross aid worker
Nwosu said that members of the party believed that he would come up with laudable programmes that would positively transform the party, Nigerians and the country.
He stressed that with Nyako as BOT chairman of ADC, the party would receive a boost, if he decided to accept the nomination.
Responding, Nyako said it was good for the party to have found him worthy of nomination as its BOT chairman.
Nyako noted that he would consider the nomination and get back to the party.
Aisha ADC's N2.5b scandal: Frank calls for independent probe
He said that he did not believe in a political party treating its members unfairly.
The former governor noted that it was unfortunate that some parties engaged in favouritism, scheming and outright intimidation of members.
"I firmly believe in true democratic parties that will be fair to its members.
"I believe in a party that will transform the lives of the people positively and fulfill its promises.
"The power of the people in party affairs should always be respected,'' the former governor said.
Source: https://www.vanguardngr.com/2018/10/adc-moves-to-make-nyako-bot-chairman/