…"We're ready to work with him – Nkanga, PANDEF chair, Akpeki
By Emma Amaize, Regional Editor, South South
NATIONAL Chairman of Pan -Niger Delta Forum, PANDEF, the umbrella body of elders, leaders and stakeholders of South-South region, AVM Idongesit Nkanga (retd), yesterday, said the people of Niger Delta were excited about the emergence of Alhaji Atiku Abubakar as the Presidential flag bearer of the Peoples Democratic Party, PDP, and his latest endorsement by former President Olusegun Obasanjo.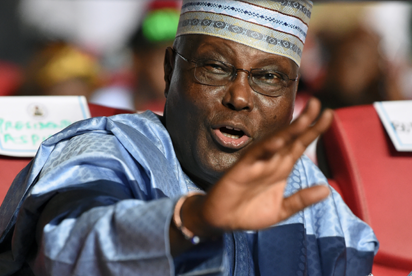 Nkanga, a former military administrator of Akwa Ibom State, who spoke to Saturday Vanguard on phone, said the attempt by the presidency to impugn the integrity of   Alhaji Abubakar and  chip away at his endorsement by Obasanjo do not bother  reasonable Nigerians, who have made up their mind to support Atiku.
Chief Strategist to the Delta State Government and veteran politician, Chief Paulinus Akpeki, also stated that Obasanjo is a well respected former President of Nigeria and an international figure and his endorsement of Atiku Abubakar was a big plus to the PDP.
Atiku: Ezeife, Olafeso hail choice of Obi
The PANDEF chairman asserted: "The Presidency does not represent Nigeria, they can say whatever they want to say about Atiku, majority of Nigerians have their opinion about Atiku, whatever they are saying does not matter."
"For us in the Niger Delta and Pan Niger Delta Forum, PANDEF,  we are very excited about the choice of Alhaji Atiku Abubakar because when we invited them to screen them, he presented the best among them on restructuring.
"Not only did he say he was going to restructure the country, he presented a book to us, indicating that he had been talking about restructuring long before it became a national discuss.
"We are convinced that if he comes to office, he will restructure the country, even the present administration is not interested in restructuring.
"So for us, we are happy to work with him, we are ready to project him for a Nigeria in line with what other Nigerians are looking at.
Fani-Kayode remains best running mate for Atiku – Yoruba Alliance Group
"People choose who their leader should be, whatever language the Presidency wants to use to describe Obasanjo's endorsement of Atiku Abubakar, that is for them, the important thing is that the will of the people should stand and that is what we are telling the present administration.
"They must allow the will of the people, the people have spoken on Atiku Abubakar, and he emerged through a credible process.  Nigeria is not in anybody's pocket, the will of the country is in the hands of the people and they have spoken.
"In APC, they did not even allow anybody to say anything; they just imposed President Muhammadu Buhari on their party. Next, year, Nigerians are going to choose between democracy and dictatorship.
"If Nigerians wanted dictatorship to continue, they would not have said no to military, but as long as we have chosen democracy, all the tenets of democracy must be observed and we cannot continue to ridicule ourselves, the time for that kind of charade has passed," he said.
Speaking, Chief Akpeki asserted: "Obasanjo is a former president of this country and an internationally acknowledged leader, he is still a force in Nigeria, and so his endorsement of Atiku Abubakar is very big plus for PDP."
"Let me tell you, however, that the presidency has nothing against Atiku, all they are talking about is just rumor," he added.
Source: https://www.vanguardngr.com/2018/10/ndelta-rebuffs-presidencys-attack-on-atiku/