…as UNICEF says 10.5m under-14 Nigerians are out-of-school; 1.1m in Bauchi
Kaduna—Universal Basic Education Commission, UBEC, will be disbursing N142.58 billion to support education development in all states of the federation, Minister of Education, Malam Adamu Adamu, has said.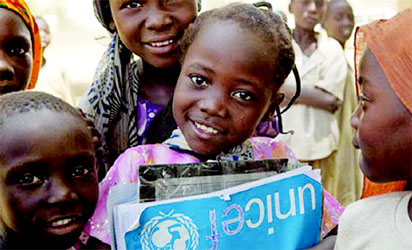 Adamu made this known in Kaduna yesterday, at the opening of a two-day Northern Nigeria Traditional Leaders Conference on Out-of-School Children.
The conference was organised by Ministry of Education, UBEC, National Commission for Mass Education and Sultan Foundation for Peace and Development in collaboration with UNICEF.
Barde solicits for Gombe APC delegates' votes
He also said the World Bank had, since 2016, issued $611 million credit facility to support states with higher number of out-of-school children in the country.
According to the minister, "Federal Government had equally deducted N71.292 billion from Paris Club Refund, as outstanding UBEC counterpart fund owed by states as at August.
"Such financial support to states through UBEC and Tertiary Education Trust Fund and other initiatives will be sustained.
"We must provide our children with the needed knowledge and skills to realise their potentials and contribute to the country's development."
UNICEF's verdict
Why I can easily beat Buhari if I win PDP ticket – Kwankwaso
At the event, UNICEF revealed that the country is losing out on a literate and skilled workforce it needs to grow economically due to the huge number of out-of-school children.
Pernille Ironside, Deputy Representative, UNICEF Nigeria, said the Ministry of Education and other government records put the figure of out-of-school children aged six to 14 at 10.5 million.
According to him, "other sources say the number is higher. The focus should not be on the number, but on children who lose out on education and better livelihoods.
"The affected children lose out on hope and the future they can have. Nigeria needs to leap frog to bring more children into education and into learning through partnerships and collective actions."
…Bauchi
The UNICEF official noted that more than half of primary school aged girls in north-east and north-west states of Nigeria are not in school.
His words: "The latest multiple indicator cluster survey says 69 percent of out-of-school children in Nigeria are in northern states, with Bauchi at the top with 1.1 million. Katsina State is second with 781,500 children out of school.
"These children are in your communities, on your streets, in the households in your council areas."
Ironside stressed that UNICEF was not only concerned about barriers to education, but also on actions that needed to be taken to reduce them.
Source: https://www.vanguardngr.com/2018/10/ubec-to-release-n142-5bn-to-states/