The Edo State Governor, Mr. Godwin Obaseki, has lauded the performance of Edo State representative in the Nigerian National Petroleum Corporation's (NNPC) National Science Quiz Competition, Mr. Alikah Joseph Ehiagwina, for his impressive outing in the national competition and making the state proud.
The governor said that Ehiagwina's feat is worth emulating as he rose through the various stages of the competition to emerge top three among his peers drawn from different parts of the country.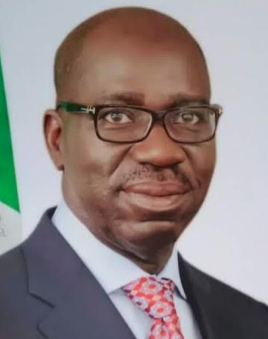 Ehiagwina, a student of Don Bosco Science Academy, Ukhun, clinched the third place at the National contest held at the Amphitheater in the NNPC Towers, Abuja, in the presence of former Heads of State, Gen. Yakubu Gowon(retd.), Gen. Abdulsalami Abubakar(retd.); Minister of State for Petroleum Resources, Dr. Ibe Kachikwu, and Group Managing Director, NNPC, Dr. Maikanti Baru, among others. Okeke Tony Kabilan of Enugu State came first, while Igban Emmanuel from Ogun State took the second spot.
Obaseki noted that the performance is a testament to the indomitable spirit of Edo people, and the unrelenting commitment to learning and personal development, which the state is famed for.
According to him, "I congratulate Alikah Ehiagwina for putting a good showing in the NNPC National Science Quiz competition, in which he emerged third after a keenly contested final. He was dogged, determined and proved to be a true champion with an excellent display of sportsmanship and intellect.
"His performance goes to show the true spirit of the Edo man: a detailed, confident and undeterred soul, always searching for knowledge and applying same for personal and national development."
He said that aside the prizes won by Ehiagwina, the state government has prepared a special package for him to serve as a motivation for him as well as to other young people in the state to strive for excellence in whatever noble endeavor they engage in.
Buhari, Obaseki meet Nigerians in Diaspora, assure on sustained devt
"In Edo today, we need more role models for millions of youths who need to aspire for greatness. So when we have the likes of Ehiagwina making us proud, it is only rational to give him the extra boost," he added.
Ehiagwina, who is the state champion, emerged third in the national contest after scoring 65 points behind his Ogun counterpart, with whom he locked horns for the second spot with 65 points apiece at the expiration of regular time.
Starting from the state level, the competition moves to the zonal level where a zonal winner emerges from the six geo-political zones, after which winners from the six zones then compete at the grand finale for the top three spots.
Source: https://www.vanguardngr.com/2018/10/obaseki-lauds-ehiagwinas-performance-in-nnpc-science-quiz-competition/