Naomi Osaka admitted that she gets "stressed out" trying to live up to "the hype" after the US Open champion was beaten in the China Open semi-finals on Saturday.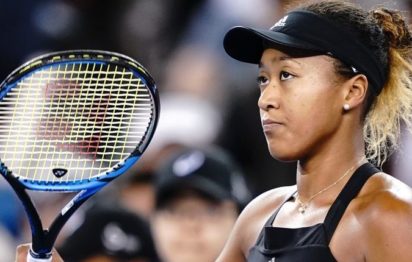 The 20-year-old Japanese, who struggled with a back injury in losing 6-4, 6-4 to unseeded Anastasija Sevastova, opened up afterwards on dealing with ramped-up expectations.
The world number six made headlines last month when she stunned Serena Williams in New York to win her maiden Grand Slam, in a final overshadowed by the American's bitter row with the chair umpire.
Osaka's shock triumph — at such a young age and against one of the greatest tennis players of all time — propelled her into the limelight.
It is a place that she is not altogether comfortable in.
"I think definitely as the weeks go by, I have this feeling of wanting to prove myself. I think that sort of takes a toll on me a little bit because I stress myself out in a way," said Osaka.
"If you don't win a tournament, then people will say, 'Oh, she hasn't won a tournament.'
"If you haven't won a Slam, they'll say, 'She hasn't won a Slam.'
"Then if you win one Grand Slam, they're like, 'Oh, she only won one Grand Slam.'
"I know it's bad, but I sort of read the comments. I'm just like, 'Oh, I guess I have to do more, to be better.'"
Osaka, who was attempting to reach a third straight final after New York and Tokyo's Pan Pacific Open, was unhappy with her behaviour in Friday's quarter-final victory over Zhang Shuai.
Osaka had been close to tears during the second set and threw her racquet, before recovering her poise.
She was more composed against the Latvian Sevastova, even though she was hindered by her back, which she said was more a case of fatigue than anything more serious.
Asked by AFP at her post-match press conference why she appeared happier in defeat than she did after winning on Friday, Osaka said: "I don't have any regrets from today.
"But my back's sort of been bothering me since the beginning of the tournament.
"I'm kind of happy that I was able to get this far."
– Out of retirement –
Sevastova, ranked 20th in the world, will play Caroline Wozniacki in Sunday's final in Beijing after the Danish second seed defeated Chinese wildcard Wang Qiang 6-1, 6-3.
The 28-year-old Sevastova is one victory away from the fourth — but biggest — WTA title of her career.
Sevastova retired from tennis in May 2013 and studied leisure management instead after becoming frustrated by injuries. She had particular problems with her back.
The time off allowed her body to mend and she returned to the sport in January 2015 renewed.
"I enjoyed my life also away from tennis, but again coming back, it's a long journey to come back," Sevastova said, reflecting on her extended time out of the game.
"It's a long way to get to the top 100. We were thinking, okay, maybe top 100 is a goal, but everything else is a bonus right now."
Juan Martin del Potro goes straight into the men's final without hitting a ball after Italy's Fabio Fognini pulled out of their semi-final with an ankle injury.
The Argentine top seed will face either Britain's fifth seed Kyle Edmund or unseeded Nikoloz Basilashvili of Georgia.
AFP
Source: https://www.vanguardngr.com/2018/10/us-open-champ-osaka-stressed-out-by-great-expectations/