World leaders on Friday applauded the work of Congolese doctor Denis Mukwege and Yazidi campaigner Nadia Murad after they jointly won the 2018 Nobel Peace Prize for fighting sexual violence in conflicts around the world.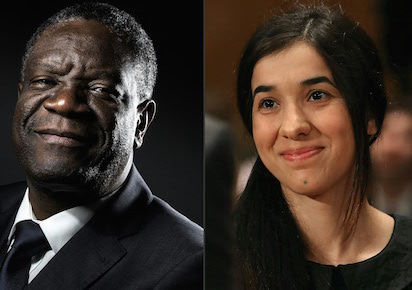 The pair won the award "for their efforts to end the use of sexual violence as a weapon of war and armed conflict," the Nobel committee said.
– United Nations –
"In defending the victims of sexual violence in conflict, they have defended our shared values" — UN Secretary-General Antonio Guterres.
"It is hard to imagine two more worthy winners of the Nobel Peace Prize than Nadia Murad and Denis Mukwege. This is richly deserved recognition of these two extraordinarily brave, persistent and effective campaigners against the scourge of sexual violence, and the use of rape as a weapon of war." — UN High Commissioner for Human Rights Michelle Bachelet.
– DR Congo –
"The government congratulates Doctor Denis Mukwege for the very important work he does although there are often disagreements between us… But now, we are satisfied with the Nobel (committee's) recognition of the work of a compatriot" — government spokesman Lambert Mende.
– Iraq –
The award to Murad was "an honour for all Iraqis who fought terrorism and bigotry" and "recognition for her courage in defending human rights of victims of terror and sexual violence" — Iraqi President Barham Saleh.
"We are full of joy. It's another slap in the face of terrorism… We hope that the Iraqi government will pay more attention to the tragedy that happened" — Vian Dakhil, a Yazidi MP in the Iraqi parliament.
– European Union –
"This year's Nobel Peace Prize celebrates the strength, the courage and the vision, the stories of a man and a woman who have risked their own lives to help, protect and save others. Denis Mukwege and Nadia Murad have worked tirelessly within their communities to bring about change, and put an end to the use of sexual violence as a weapon of war" — EU foreign policy chief Federica Mogherini.
"I congratulate both winners of this year's #NobelPeacePrize. They have my deepest respect for the courage, compassion and humanity they demonstrate in their daily fight" — European Council President Donald Tusk.
"Let me extend our most sincere congratulations to the winners of the Nobel Peace Prize today, Denis Mukwege and Nadia Murad, for their truly noble work to put an end to the use of sexual violence as a weapon of war" — European Commission spokeswoman Natasha Bertaud.
– NATO –
"Thank you for your tireless efforts to shine a bright light and to bring to an end the darkest of crimes — sexual violence as a weapon of war" — NATO Secretary-General Jens Stoltenberg.
– Germany –
"These are two excellent prize winners, both of whom stand for the cry for humanity amid unimaginable horrors that people commit against one another" — German Chancellor Angela Merkel's spokesman Steffen Seibert.
– Britain –
"People across the world will be inspired by @NobelPrize going to Nadia Murad and Denis Mukwege. Met Denis on a visit to Panzi Hospital in Bukavu 2005 and remember being struck by his humility, decency and extraordinary compassion. A total inspiration" — British Foreign Secretary Jeremy Hunt
Source: https://www.vanguardngr.com/2018/10/world-leaders-applaud-joint-nobel-peace-prize-winners/