Former governor of Abia Orji Kalu has congratulated Mr Chris Isiguzo, the newly-elected President of the Nigeria Union of Journalists (NUJ).
Kalu who is the publisher of The Sun and New Telegraph titles, also extolled the virtues of the new president.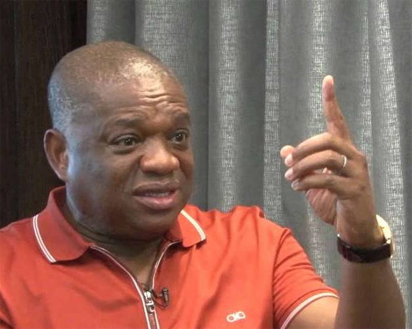 Newsmen recall that Isiguzo was elected at the NUJ Sixth Delegates' Conference, held in Abeokuta from Wednesday to Friday.
Kalu in a statement issued by Kunle Oyewumi, his Special Adviser, and made available to NAN on Friday in Abuja, stressed that the ethics of the media profession must be upheld by journalists for the sake of building a just and decent society.
Kalu described the new president of NUJ as a thoroughbred professional with a proven track record in journalism.
He said: "The election of Comrade Chris Isiguzo as the new President of the Nigeria Union of Journalists did not come to me and many others as a surprise, following his antecedents as Vice President of NUJ, South East, Zone.
"The new helmsman has the intellectual and leadership capacity to steer the affairs of the body.
"I am convinced that Mr Isiguzo, alongside other executives of NUJ, will live up to expectations by taking the professional body to greater heights.
"The media are key to democracy and as we approach the 2019 general elections journalists must be objective, fair and accurate in the discharge of their professional duties.
"We will continue to work together as stakeholders in the media industry to sustain the place of journalism in the global space.
While urging the new executives to run a participatory leadership style, Kalu congratulated members of the NUJ for a successful conference.
He also commended the outgoing President of NUJ, Mr Waheed Odusile, for his contributions to the development of the journalism profession while in office.
NAN
Source: https://www.vanguardngr.com/2018/10/orji-kalu-congratulates-isiguzo-new-nuj-president/