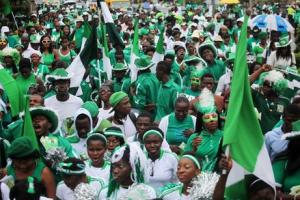 By Azu
WHEN he made the last Independence Day speech of his first term, President Muhammadu Buhari might have been speaking only to his prep team and the recording crew. Not that Nigerians were not happy to mark another national holiday.
On this particular 58th  independence anniversary, attention was simply elsewhere: the party primaries across many states in the country. From Zamfara to Lagos and from Imo and Port Harcourt to Adamawa, candidates were locked in feisty battles for their parties' flag in next year's general election.
Even if Buhari had asked Vice President Yemi Osinbajo to read his Independence Day speech, not many would have noticed.
In the ruling All Progressives Congress (APC), as drama goes, Zamfara, Port Harcourt and Imo were top contenders. Zamfara's governor-in-diaspora, Abdul-Aziz Yari, managed to come back home for the primaries. But he may have to return to his base unceremoniously. While the results from Zamfara were cancelled as a result of rigging and violence, Port Harcourt produced parallel primaries and two results, leaving the party at a crossroads.
Statue erected to  fakery
In Imo, as usual, nothing is ever complete without a statue. This time, however, it was a statue erected to fakery. It was not installed by Governor Rochas Okorocha, but by the committee which was supposed to supervise the primaries. Party Chairman Adams Oshiomhole accused the Ahmed Gulak-led committee of announcing fake results. He disbanded the committee, trashed the results and left Gulak, once described by Garba Shehu as one of the most dangerous men in PDP, reeling.
Eko for show 
Lagos, being Lagos, was miles ahead in drama.
After weeks of infighting, the intra-party rift spilled into the open, ending the ambition of Governor Akinwunmi Ambode to stand as the APC's candidate for a second term.
He would be the first Lagos governor to suffer this misfortune in the last nearly two decades, setting the stage for what might turn out to be one of the most hotly contested governorship elections in Lagos since Michael Otedola of the National Republican Convention defeated Yomi Edu to become governor largely as a result of the intra-party dispute in the then Social Democratic Party.
Meanwhile, Clement Ebri who was already governor of Cross Rivers State when the two main contenders for the Lagos APC ticket – Ambode and Babajide Sanwo-Olu – were in the their late 20s, is still gathering the shattered pieces of his reputation. Ebri, the chairman of the Lagos primary committee who used his mouth to say that no primaries took place used the same mouth to announce the result the next day and even signed it, with a straight face.
When a bonfire is made of his reputation, the unused voting materials he claimed he brought from Abuja would be used to start the fire. I hope for his own sake that none of his children watched his scandalous public display.
Elephants remember 
In Taraba, it was bad news for the former Minister of Women Affairs, Aisha Al-Hassan, who will never forget how she set herself up for a Humpty Dumpty's fall after flip-flopping on her earlier decision to quit Buhari's government.
In September 2017, a video of Al-Hassan's private visit to former Vice President Atiku Abubakar was leaked. In the video, she praised Abubakar as her mentor and, in fact, addressed him as president-in-waiting, pledging her unflinching support.
She said to Atiku in the video, "Our father and our President by the grace of God come 2019. Before you are your people, your supporters for life, and the people of Taraba State; they are here to pay homage and to greet you on the occasion of Sallah and for all that Allah has done for you because Allah has raised your status…"
She owned up to the video when it leaked. She said that Buhari had not told anyone he was interested in running for a second term, and that even if he did, she would thank him heartily and follow Atiku.
One thing led to another and after a party room trial, she began to sing for Buhari like a fowl with a broken beak. She obviously believed that her sins had been forgiven her and bygones would be bygones.
Last week, however, she rediscovered that politics is a bitch. She was reminded that party elephants have a very, very long memory. People whose record on trust is as good as the chameleon's coat of many colours told her, point-blank, that the party had not forgotten what she said last year. She could not be trusted.
She might have resigned from the government and the party with mixed feelings. She may even feel comforted by winning the UDP governorship ticket, but as for her treatment, she was in good company.
'Corper' Shittu
The Minister of Communications, Adebayo Shittu, also got chucked out of the contest – and for good reason. After Shittu was exposed for failing to enroll in the National Youth Service Corps, he carried on like Teflon king, absolutely without shame or remorse.
I'm told that one of the reasons why he was the first to launch the Buhari-for-second-term campaign during a Federal Executive Council meeting early this year was that he hoped to use his first mover's advantage to tie Governor Abiola Ajimobi's hands and beat him over the head, like most of them are doing, with the Buhari talisman.
But apparently, the talisman didn't work – or to put it more precisely – didn't work for him. Not only was he disqualified for failing to do the compulsory youth service, Ajimobi was made the Chairman of the APC Convention Committee.
Now, Shittu who should hang his head in shame, told Channels jestingly, that he does not mind returning to camp as Nigeria's oldest youth corps member. Anything, no matter how low, just to get the governorship ticket.
But he still has the ruling party to call home, for now. The story last week was completely different – and rather stark – for the former governor of Ondo State, Olusegun Mimiko. When the forests were gathering the woods, the man once fondly called the Iroko of Ondo politics was conspicuously missing.
Once an Iroko
The rolling stone that he has become, Mimiko who was disposed of by the Labour Party last week reportedly sought refuge in Zenith Labour Party where, he would, as usual gather no moss. In a chronicle by Simon Kolawole in his weekly column on Sunday, the journalist reminded us of Mimiko's long, wandering spell.
The "Iroko" started off with Alliance for Democracy (AD) in 1999; joined the Peoples Democratic Party (PDP) in 2003; and left for the Labour Party in 2007, on which platform he ran for governorship. He later returned to PDP, and later again, returned to LP from where he has now defected to Zenith Labour Party, completing the alphabet soup of Nigerian political parties from AD to ZLP.
For Mimiko and for politicians in the two major parties, there's no rest… The wandering continues.
Ishiekwene is the Managing Director/Editor-In-Chief of  The Interview  and member of the board of the Global Editors Network.
Source: https://www.vanguardngr.com/2018/10/snapshots-in-a-week-of-turmoil/