By Abdulmumin Murtala, Kano
The Kwankwaso led faction of the People's Democratic Party PDP in Kano has dismissed the claim that the primary elections conducted by the party have been cancelled.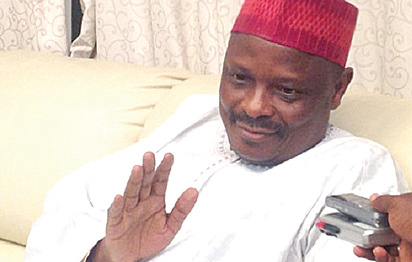 The spokesperson of Dr. Rabiu Musa Kwankwaso, Hajiya Binta Spikin told Vanguard that there was no basis for any cancellation as the elections were conducted according to the constitutional provisions of the party.
"We declared the date and the venue for the elections as provided by the party's constitution only to get there and find it sealed by the police without any reason," she explained.
She further explained that the party sorted for another venue where it conducted a free and fair election in the presence of all those that were constitutionally supposed to witness the election.
At the end of the elections a certificate signed by both the Electoral Officer Mr. Ezeogu Emeka Onuoha and the Returning Officer Hon. Danladi Abdulhamid and others was issued.
Spikin therefore explained that there was no reason whatsoever that will warrant the cancellation of an election conducted freely and fairly.
On the issue of the police stopping them from conducting the elections Spikin also condemned what she described as interference in party affairs.
"The police have no right to decide our party affairs as the party is guided by its constitution" she declared.
She said that the election was free and fair and was also valid as there is a party structure in place with a constitutionally established Caretaker Committee.
It would be recalled that the Police in Kano barred the PDP from conducting primaries at the Marhaba Cinema venue sighting a court order related to a leadership tussle in the party.
The party decided to hold the elections at it Lodge Road Kwankwasiyya headquarters being the only available option at midnight where all those required were present.
Source: https://www.vanguardngr.com/2018/10/kwankwasos-pdp-faction-dismisses-rumour-of-cancellation-of-primaries-in-kano/