Sunshine Queens of Akure have expressed their optimism to lift the 2018/2019 Nigeria Women Football League and Aiteo trophies.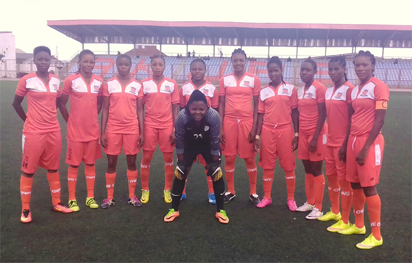 The Media Officer of the team, Micheal Akintunde, told the News Agency of Nigeria (NAN) in an interview on Wednesday in Abuja that the optimism was due to persistent hard work being displayed by the management of the club.
He said that team spirit would help the Queens to surpass their third position standing at the end of the 2018 league season.
READ ALSO: USA launch Basketball World Cup defence against Czechs
Akintunde said the club's defeat of Confluence Queens FC of Lokoja by 3-1 in a friendly on Sunday in Lokoja, also served as a tonic, ahead of their planned participation in a four-day pre-season tournament in Ondo.
"The tournament is organised by the Queens Football Consult of South Africa. The four-day pre-season football tourney is for women elite teams in Nigeria.
"The tourney will start from March 26 and end on March 31 at the Ondo State Sports Complex. This is the best avenue for the team to have a good encounter before the league commences.
"We have been training rigorously to achieve our goal in this year's season, which is to win the league.''
Akintunde said that apart from finishing third in last year's league, the team also played in the quarter-final of the Federations Cup.
"We have double targets in this year's competition. First is to win the league. Second is to win the Federations Cup.
"We are going to achieve all our targets with the help of God.'' (NAN)
Source: https://www.vanguardngr.com/2019/03/sunshine-queens-hopeful-on-nwfl-aiteo-trophies/