By Olusegun Odegbami
Lee Evans was on Nigerian television last Thursday night. He was the special guest on The Sports Parliament, the weekly diet of the best entertaining and educative sports conversation on Africa's largest television network, the NTA. For a man who turned 72 only a few days ago, one who had gone through some of the best and worst experiences in his sports career in a country he loves with all his heart and has demonstrated it throughout almost five decades of a staggered relationship with Nigeria, Lee was looking very good, young and fresh, his clean-shaven head making him look even ten years younger, and his face obviously not reflecting the anguish he has passed through these past 5 years, in particular. But that's an issue for another day for I will not go into the meat of his travails in Nigeria in this period.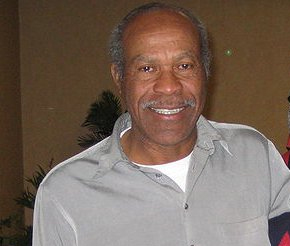 My preference for Buhari personal — Mahara ji
Unrelentingly though, he has vowed to remain in the country and fight his cause with his last breath till he finds justice, clears his name and restores his hard-earned reputation. In an environment with people that had no appreciation of his history and his accomplishments, ignorant of his global worth, jealous of the recognition and the assignment given to him, out of jealousy they set out to ruin the global reputation of a most illustrious Black man that did so much for Nigeria, Africa and the Black race during a period when I was a personal witness.
By the way, Lee Evans is a legendary African American track and field athlete with two Olympic Gold medals, the games and a world record to his name that remained unbroken for over two decades before it was finally shattered by the incomparable Michael Johnson. Lee's record in the 400 metres event may actually be the longest in athletic history. Yet, he was only 21 years old at the time of the Mexico Olympics in 1968. He recalls with nostalgia that all the Black athletes running for the United States of America at the time were all students like him in American Colleges and universities. Lee was in his final year studying Physical and Health Education.
That was the era of the Black Civil Rights movement and struggle in American history, the year Martin Luther King was assassinated and Black consciousness was at its peak. That was the year of the raised fist by athletes at the Olympic Games following in the tradition of the Black Panther Movement that was in the vanguard of the fight against discrimination, oppression, and mental slavery of Blacks in America.
Last Thursday night, Lee recalled those days – how they mentally reconnected with their African roots, and became even more determined to use sports to make a global statement in equality, and to conquer the world. The realization of their genetic links with West Africa in particular, was additional incentive and motivation for them to win laurels and connect with Africa.
Some years after the Olympics, the elements took control and from the blues Lee received an invitation from a man he had never met, a Nigerian who had trained in the United States and was teaching sports at the University of Ife then, to come and coach Nigerian students in his university. The gentleman was Mr. Isaac Akioye.
Lee told the circumstances of his eventual coming to Nigeria at the invitation of another young Nigerian Colonel in the Nigerian Army then, Colonel Joe Garba, who was chairman of the Nigeria Basketball Association. The Colonel had employed some American basketball coaches to come and revolutionise the sport in Nigeria and Lee had come along to provide the athletic side of the training. Shortly after he arrived he switched camps to his first love, Track athletics, and responded to Mr. Isaac Akioye's invitation.
That's how he took over teaching sports and training athletes over from Akioye at the University of Ife when he was posted to Lagos to head the new National Sports Commission established the drive the fastest sports development program in Africa. All of that was from 1975! Lee Evans was a part of the great sports renaissance in Nigeria through the mid-1970s to early 1980s. For those who can remember, the product of his work remains some of the best chapters in our sports history, and most of Nigeria's greatest sprinters were his handiwork – Kola Abdullahi, Felix Imabiyi, Dele Udoh, Taiwo Ogunjobi, Gloria Ayanlaja, and so on, up to the era of a younger generation of Henry Amike, Innocent Egbunike, Chidi Imoh, and so on. These athletes made up the best years of Nigerian sports development in Track and field, and Nigeria was poised to take over global sprinting and jumping.
Lee Evans' departure was Nigeria's loss and Jamaica's gain because he joined the team of American coaches that turned sprinting into the break and breakfast of descendants of a Black race of West African slaves in that Caribbean country. Today, Jamaica has transformed into the sprinting capital of the world. Lee Evans recalled how he realized that Black American athletes in track and field must share the same DNA as his brothers and sister in West Africa, and how it just made sense that West African athletes would make excellent sprinters too in the world.
His simple thinking became the tool needed to start the production line of African athletes for almost two decades in the 1970s up to the 1990s – athletes of distinction, with one or two of them always in the final line up of every international sprinting event and championship in the world in the 1970s, 80s and even early 1990s.
Lee Evans travelled around Africa scouting for talent and developing them. For a while he returned to the American Collegiate system, but his love for Africa, and Nigeria in particular, where he believes his ancestors must have come from, brought him back some years ago. He teamed up with Dr. Bruce Ijirigho to develop Track and Field athletics in Akwa Ibom State for about three years. The project was on the trajectory of monumental success when Lee had to leave.
I ran into him again, took him to my friend, the Governor of Lagos at the time, Babatunde Fashola, who recognized the unique opportunity presented the State, hired him immediately and charged him to revolutionise track and Field athletes amongst young students in Lagos State.
That romance never left the tarmac. Rather than learn from the athletics guru, local technicians became envious, set him up, and turned his dream into a nightmare from which he almost lost his life and his global reputation.
Lee has refused to leave Nigeria without first clearing his name.
I cannot delve into that murky and shameful matter because it is in court. But those of us that have known Lee since his early days of serving Nigeria, and his passion and love for sports and Nigerian athletes, know the truth of his matter and will continue to support him until he gets justice.
He returned from a short trip to Liberia last week and told me about the incredible transformation going on in Liberia under new President, former International football legend, George Opong Weah.
That lifted my spirit. Weah is on an incredible mission that will impact the future of more Sportsmen in politics.
Lee cannot wait for me to become Governor of Ogun State, with my vision to make the State the Mecca of sports development in Africa, as well as the epicenter of new Black Civilisation in the world.
He sees a link between what I am touting and the dream of millions of African Americans and other Blacks around the world who want to relate with and return on visits to, or help development through investment, their motherland.
He is already gathering an army of Black friends and brethren from around the world for the great 'migration' back to their roots for investment, recreation and historic purposes.
Somehow, I have a feeling that Lee and I could easily be blood brothers. For that reason, I am thinking…Wasimi could become his final 'home'. Here he will have the opportunity and environment to do what he knows to do best – teach, coach and breed a new generation of Nigerian sprinters for years to come.
Source: https://www.vanguardngr.com/2019/03/lee-evans-coming-back-to-your-roots/