Ahead of the 2019 Africa U23 Cup of Nations qualifiers against Libya, Nigeria U23 coach Imama Amapakabo has opened a line of communication with Fortuna Düsseldorf goalkeeper Maduka Okoye with a view to an invitation to the Dream Team VII.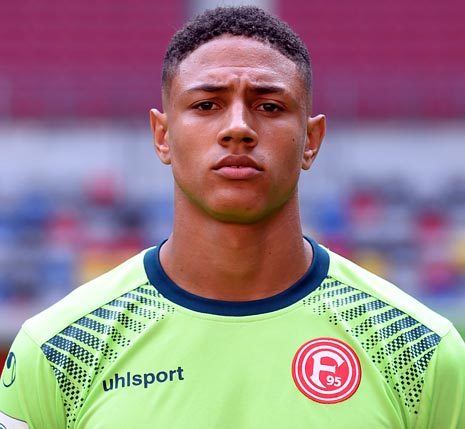 Born in Düsseldorf, the dual-eligible Okoye was earlier approached by Gernot Rohr's right-hand man, Victor Agali over committing his international future to Nigeria ahead of Germany and he gave a positive response.
''Imama Amapakabo contacted me that he wants to have me in the Olympic Squad. It's almost the best feeling,'' Okoye said.
I want to be the next Messi – Ubochioma
''This is a big step, and I'm going to take this chance and prove myself. I think he's one of the coaches of the Super Eagles.
''This is where I want to be. My dad is very happy, and he will be proud of me more than ever. He has always prayed for this, and I have always prayed for this as well. It is a big dream.''
Although Okoye admitted that he has never watched the Super Eagles play live at the stadium, the 19-year-old named Alex Iwobi as one of the players he looks ups to.
''I've never watched the Super Eagles live, but I've seen them on TV.
''I like watching the Super Eagles because they love playing good football. I like Iwobi, Iheanacho, Ighalo.
''I like the team's fighting spirit and energy. We have a lot of good, young players,'' he concluded.
The uncapped Okoye plays for Fortuna Düsseldorf II in the Regionalliga West, which is the fourth-tier in Germany, and has posted two shutouts in ten appearances while conceding fifteen goals.
Source: https://www.vanguardngr.com/2019/02/nigeria-u-23-amapakabo-opens-contact-with-fortuna-dusseldorf-goalkeeper/