London – Germany's Alexander Zverev described his ATP Finals title win on Sunday as "astonishing", after beating Roger Federer and Novak Djokovic in consecutive days without losing a set.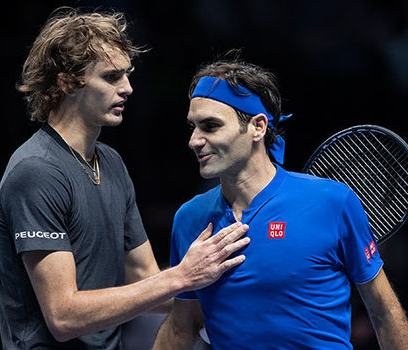 Just as against Swiss 20-time Grand Slam champion Federer in Saturday's semi-final, the 21-year-old produced a dashing display of power and guile to stun the in-form Djokovic 6-4 6-3.
He became the youngest winner of the title since Djokovic 10 years ago, and the first German to triumph since Boris Becker in 1995.
Zverev also became only the fourth player to beat Federer and Djokovic back-to-back in the semi-final and final of the same tournament.
Rafael Nadal has managed it three times, Andy Murray once and David Nalbandian is the other.
"Obviously it's quite astonishing, winning this title, beating two such players back-to-back, Roger and Novak, in semi-finals and finals. (It) Means so much," Zverev told reporters.
"I'm incredibly happy and incredibly proud right now."
Djokovic had schooled Zverev 6-4 6-1 on Wednesday in the round-robin stage.
But following his victory over Federer, after which he was booed by fans over a controversial point in the second-set tiebreak, the German was a different proposition.
Zverev said the loss to Djokovic had prompted a different approach, following a discussion with coach Ivan Lendl — the eight-times Grand Slam champion who helped Britain's Murray to multiple major titles.
"He obviously analysed the match I played with him a few days ago, told me a few things I had to do different. I was more aggressive today," Zverev, who will end the year ranked fourth in the ATP rankings, said.
After this statement victory, Zverev's next task will be to go past the quarter-final of a Grand Slam for the first time.
Told that Djokovic had predicted he could surpass his own achievements, including 14 Grand Slam titles, Zverev was quick to urge some perspective.
"Oh, Jesus. Oh, my God!" Zverev said. "I mean, I've won one of these. He's won five. He's won, I don't know what, 148 titles more than me. Let's not go there for now."
After a couple of years finding his feet and learning to deal with huge expectation levels, however, Zverev's Tour-leading 58 match wins this year is proof of a more mature attitude.
And a greater level of consistency.
"I will do everything I can to get better, to compete with them always. I feel like I'm doing that," Zverev said.
Russian Karen Khachanov, who beat Djokovic to win the Paris Masters, and Greek Stefanos Tsitsipas are also making huge strides, including a win over Djokovic.
Zverev believes the new generation are starting to make inroads.
"Obviously us (we) young guys, we're coming through," he said. "We've still got multiple years for all of us ahead. A lot of things can happen. A lot of things can change.
"I'll do everything I can to be on top. But the other guys are playing great tennis, as well."(Reuters/NAN)
OLAL
Source: https://www.vanguardngr.com/2018/11/it-means-so-much-to-beat-2-tennis-greats-back-to-back-zverev-says/