By Yemi Olus
A fortnight ago, Athletics South Africa (ASA) released a list of 47 athletes referred to as their 'Preparation Squad' ahead of next year's IAAF World Championships holding in Doha, Qatar, from 28th September to 6th October.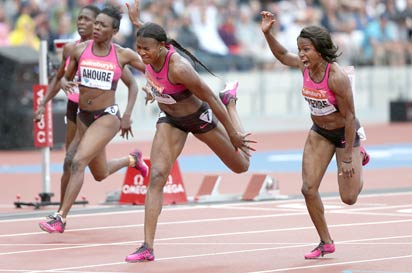 Ministry of Interior Games: Minister inaugurates committee
This list comprises South Africa's best athletes including World Record holder in the men's 400m, Wayde Van Niekerk; multiple World and Olympic 800m Champion Caster Semenya; reigning World and Commonwealth Games Long Jump Champion Luvo Manyonga; African Champion in the men's Long Jump Ruswahl Samaai; African and Commonwealth Games 100m Champion Akani Simbine, and a host of others.
Developing zero tolerance for doping in Nigerian Athletics
ASA also released an U-20 list of 31 athletes in preparation for the 2019 African U-18 and U-20 Championships, and the 2019 CAA Southern Region U-18 and U-20 Championships. These athletes were picked based on their performance at the 2018 IAAF World U-20 Championships, 2018 African Youth Games, and the 2018 Youth Olympic Games in Buenos Aires.
And so athletes who were outstanding in the U-18 category this year, will be upgraded to the U-20 category next year, leading to a seamless transition from one age grade to the other.
Not only has ASA begun preparations for the 2019 Athletics season, the federation also sent its Excellence Manager and former Olympic 800m Silver medallist Hezekiel Sepeng to Doha to assess the conditions of the host city of the 2019 World Championships, in a bid to prepare against multiple challenges its athletes may face at the championships, including extreme temperatures and late competition schedules.
Two weeks ago, the International Association of Athletics Federations (IAAF) released its list of nominees for the 2018 Female and Male World Athlete of the Year respectively. The list comprises 20 names (10 for each gender), and five men and five women finalists will be announced by the IAAF sometime in November. 15 nationalities are represented in this initial list of 20 athletes, with Kenya producing the highest number of nominees (four athletes).
USA and South Africa follow with two nominees each.  Semenya, who won the women's 800m and 1500m at the 2018 Commonwealth Games, and won GOLD in the 400m/800m at the African Championships in Asaba, is one of South Africa's nominees. She's the World No.1 in the women's 800m. The second is Luvo Manyonga, current Commonwealth Games Champion and World No.2 in the men's Long Jump.
It is interesting to note that Africa is setting the pace in these nominations, underlining the continent's status as a force to reckon with in Track and Field. This is what happens when countries that are genuinely interested in the development of their athletes, build a proper and viable structure, and invest in them.
How do we expect to dominate a country like South Africa, who do their homework and go through great lengths to prepare their athletes for competitions, when we can barely get the basics right? Most often than not, our administrators only pay lip service to the sport yet expect that somehow, Nigerian athletes will suddenly perform some magic at international competitions.
The Athletics Federation of Nigeria (AFN) is still struggling to secure sponsorships for its Golden League, which is the only competition available to athletes on the domestic scene. And if that isn't bad enough, the board is now planning to hands off the organization and sponsorship of the Golden League ahead of the 2019 Athletics season. This was one of the resolutions reached by the AFN at its Board Meeting held on 11th July in Asaba, Delta State. Part of it reads thus:
"The Board meeting reiterated the need for more sponsorship drives because with very lean government funding in the last one year, financial contributions alone from Board members has been insufficient, hence the need to intensify sponsorship with the hope that prospective sponsors will come on Board in the second year of the Board's 4-year tenure.
"The AFN Board re-emphasized that it will continue to deal with Athletics clubs and State Athletics Associations and other relevant bodies in the conduct of its activities. In view of the above, the AFN Board has opened the doors for clubs, state Associations and private individuals interested in organizing Athletics Competitions to contact AFN as it intends to gradually withdraw from organizing some competitions to enable it largely focus on National Championships."
To put this into context, it means that the AFN plans to restrict itself to the organization of National Championships, and only two competitions fall into this category: the National U-20 Championships and the All Nigeria Athletics Championships, which is the National Trials for senior athletes. It beats me that a federation can confidently admit that it is only willing to organize/host two championships in a year, and is pushing its responsibilities to State Associations due to its inability to think outside the box or attract sponsors to Track and Field.
Ironically, at a press conference held during the African Championships in Asaba, AFN President Ibrahim Gusau advised Nigerian athletes to begin to show more commitment during international assignments, asking them to borrow a leaf from their South African counterparts. I find it interesting that a federation that hasn't shown as much commitment to the cause of its athletes like the ASA, is asking its own athletes to emulate their South African colleagues. I believe the AFN has more than a thing or two to learn from ASA.
Source: https://www.vanguardngr.com/2018/11/a-case-of-two-athletics-federations/