…Threaten to impound vehicles driven against traffic
By Evelyn Usman
The Lagos State Police Command, Saturday , declared war against traffic offenders in the state , particularly those who drive against traffic, with a threat to impound any motorist caught.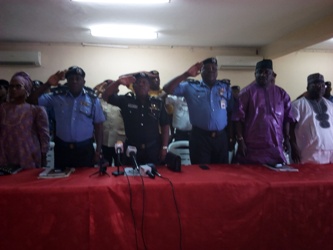 To this end, it has launched ' Operation Restore Sanity in Lagos'  with a charge to motorists, no matter their status in the society to adhere to traffic rules, or have their vehicles impounded.
The exercise , according to the command boss, Imohimi Edgal,  is expected to begin tomorrow, between 6am and 6pm.
In a meeting with stakeholders comprising members of transport unions and other traffic agencies, at the Police Officers Wives, POWA hall, Ikeja , Edgal, disclosed that 650 policemen had been deployed to man and arrest offenders at designated routes in Lagos.
Police uncover apartment used as armory by robbers
Any motorist, motorcyclist or tricyclist, be he  private or commercial ,  caught driving against traffic  or found without driver's licence, will be arrested ,  according to the CP.
Lamenting  the menace caused by traffic offenders in Lagos, Edgal said "  the impunity with which
traffic laws are being flaunted has called for caution and it won't be acceptable anymore, even with law enforcement officers.
Lagosians  and visitors disobey traffic laws as regards driving against traffic, driving on BRT lanes and driving without required documents.
We must collectively fight this in order to restore orderliness on our roads".
Sixty routes in the state  were noted  for fragrant abuse of traffic rules.
They are: Akpongbon bridge, Obalende bridge, Idumota( inward Iddo), Marina  and Victoria Island, all under Area 'A'  Command Lion Building. The routes which were categorised under 13 Area Commands, included Ijora, Marine bridge , Oshodi-Apapa expressway, under Area 'B' command;  Ijora Badia, Ojuelegba under bridge, Murtala Muhammed Way, Oyingbo hljuncrion and Ogunlana drive to Marshal Kilo, all under Area ' C' Surulere command.
Identified routes under Area 'D' command, Mushin,  notorious for traffic congestions included  Cele, inward Mile Two, Cele (inward Ago – Okota), Oke-Afa( inward Ejugbo), Ijesha express, Mushin Ojuwoye street and Fadeyi, among other routes.
Edgal, informed that the Police , as   the lead agency in  law enforcement would deploy 50 men to each of the designated routes while other traffic management agencies such as the Federal Road Safety Commission, FRSC and the Lagos State Traffic Management Authority , LASTMA would have not less than five of their officials at the designated routes, while the transport unions would deplore one of their task force officials to the locations.
Addressing heads of the traffic unions, the CP said " tell your members who don't have the  required documents to drive  to leave the road in order not to risk their vehicles or okada from being impounded".
OSUBI AIRPORT: DTHA urges Okowa to intervene in closure
But he was quick to inform that the exercise was not to generate funds, informing that offenders would be given opportunity by the mobile courts to get the correct documents before their vehicles or motorcycles would be released to them.
He therefore,  warned all policemen deplored for this purpose to shun corrupt practises such as demanding money from any offender, threatening that any policeman caught would be demoted in rank and the supervising officer queried.
He also warned Lagosians not to tempt any of the policemen with money if caught.
Source: https://www.vanguardngr.com/2018/10/gridlock-police-launches-operation-restore-sanity-on-lagos-roads/