By Dennis Agbo
National Vice Chairman of the Peoples Democratic Party, PDP, for South East, Deacon Austin Umahi has described Fashola's statement of possible Power return to the South West in 2023 as an eye opener for the Igbo people in the All Progressives Congress, APC.
Umahi in reaction said "That's an eye opener to our so called brothers and sisters who are in  the failed APC for their selfish interest and leaking pockets .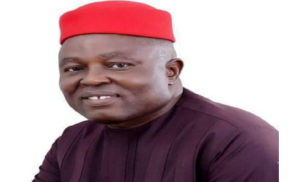 https://www.vanguardngr.com/2018/10/apc-senators-dump-impeachment-threat-against-saraki-2/
"Most importantly, it is glaring that APC is drowning in all ramifications and Nigerians hve rejected them and will demonstrate it in less than 112 days .
"Rebranded and repositioned PDP does not only have Nigeria collective interest but South East in particular. Am convinced that as a party built on fairness and equity, South East surely stands a better chance to take her equity share in Nigeria project come 2023, God's willing."
Source: https://www.vanguardngr.com/2018/10/fasholas-statement-eye-opener-for-ndigbo-in-apc-umahi/