Abuja – Acclaimed Nigerian author, Chimamanda Adichie has described United States First Lady, Melania Trump as racist.
Adichie made the statement in a recent interview with international magazine, Esquire UK where she talked about her stance on feminism, Melania Trump's visit to Africa and racism.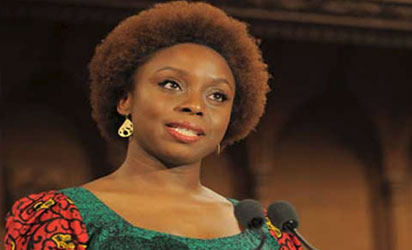 When asked if she thought Melania Trump was racist, she answered in the positive with reference to Melania's recent visit to Africa.
She said, "Had you asked me this question yesterday, I would have said 'yes' and my evidence would be that she supported her husband when he was being incredibly racist to Barack Obama.
"But I just watched an interview that she gave and I was just appalled by it. She sort of stepped out of a colonial 1750 guidebook about how to be in Africa.
"There's a pith helmet and then I am thinking maybe this is supposed to be ironic? Maybe it is a critique of colonialism.
"She really thought this is what you do when you go to Africa and it says something about someone who is so removed from reality," Adichie said.
Chimamanda Adichie being interviewed at the Esquire UK townhouse
Adichie went on to reference a jacket Melania wore to one of the US children immigration camps which read "I really don't care: Do you?" and caused a media frenzy.
She said, "And I remember when the media made a lot of noise about that jacket. I remember actually kind of being on her side when all that noise was happening.
"I thought – she doesn't know, she couldn't possibly do this knowingly. She did, so the answer to your question is 'yes'. I think she is racist," Adichie said.
When asked why she passionately fights for feminism and not racism despite being black, Adichie stated that she always finds the need to make a case for feminism.
She said, "In my own personal space, the people I love, my family and friends all get race. So I have never with them had to make a case for why something was racist.
"So I am with my circle of friends and something happens to do with blackness and immediately, we all get it.
"But with gender, I find that with the people I love, I am constantly being expected to make the case – the ways in which women are reduced.
"And it gets emotionally exhausting because I don't feel that I have the kind of effortless support that I have when I talk about race," Adichie said.
Adichie, an award winning writer, has constantly used her voice and books to advocate for equal opportunities for men and women.
Adichie trended in April when she said she was upset that the Twitter bio of former US presidential candidate, Hillary Clinton, began with 'wife' despite her numerous achievements.
NAN reports that Adichie's feminism campaign has been a pivotal crux of her writing as her characters centre around powerful women who are usually dwarfed by the patriarchal system in their environments.
Her TedX talk 'We Should All Be Feminists' was sampled on American singer Beyonce's hit song 'Flawless' and was also part of Beyonce's performance routine at 2018 Coachella.
In 2017, Adichie released a small book titled – 'Dear Ijeawele or A Feminist Manifesto in Fifteen Suggestions'. (NAN)
Source: https://www.vanguardngr.com/2018/10/adichie-says-melania-trump-racist/