By Adeola Badru
IBADAN—MILD drama ensued when roads that led to Oyo State Secretariat, Ibadan, en route Queen Elizabeth Road, Mokola, were, yesterday, blocked by enraged students of Oyo State College of Agriculture and Technology, OSCATECH, Igboora; Emmanuel Alayande College of Education, EACOED, Oyo, and Ladoke Akintola University of Technology, LAUTECH, protesting the prolonged closure of their schools as well as hike in tuition fees.
The secretariat gates were shut for about five hours with security operatives taking positions to prevent possible break down of law and order by the protesting students, who carried placards with messages like, "Is this democracy or crazy demo?" "Re-open our schools Mr. Constituted Authority," "Constituted Authority, please save our schools," " We are tired of staying at home," "Education is a right and not a privilege," "Save our future and re-open our schools," "We are tired of staying at home," among others
Staff of the OSCATECH and EACOED have been on strike for about four months, owing to issues of non-payment of salary arrears of 17 months, payment of fractional salaries from January 2016 till July 2018, inadequate subvention and poor funding by the state government.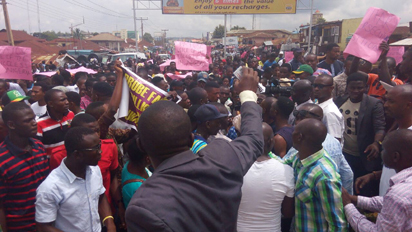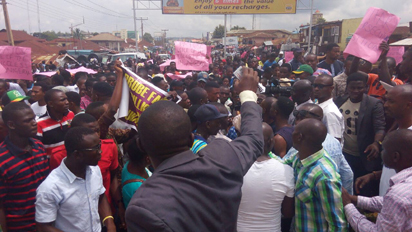 The students that gathered on the platform of National Association of Nigerian Students, NANS, protested the recent increase of tuition fees from N65,000 and 72,000 to N200,000 and N250,000, demanding the reversal of the fees.
Chairman, NANS, Oyo State chapter, Morounkola Teslim, decried the back and forth movement between the management of the schools and the state government on modalities to resolve the impasse.
His words: "A few days ago, we heard that the school fees of Ladoke Akintola University of Technology, Ogbomoso, has been increased from N65,000 and 70,000 to N200,000 and N250,000. We believe that such exorbitant school fees will lead to students' dropout.
"If the governor fails to speak with us, we will leave and hope to hear from the government. If we don't hear from government, we will reinforce and come back here in seven days."
Entreaties by government officials such as special advisers to the governor, Mr Segun Abolarinwa, Mrs Bisi Akin-Alabi, Afeez Bolaji; Commissioner for Information, Culture and Tourism, Mr. Toye Arulogun; Senior Special Assistant on Print and Broadcast Media, Mr. Akin Oyedele, to the students to nominate representatives to have a closed-door meeting with government officials, fell on deaf ears as the students insisted on a face-to-face conversation with Governor Abiola Ajimobi.
When it became obvious that their request to meet Ajimobi may not be yielded to, the students left with a resolve to return should government fail to resolve the impasse within the next seven days.
Source: https://www.vanguardngr.com/2018/10/students-shut-oyo-governors-office-over-schools-closure-tuition-hike/