Governor Ifeanyi Okowa of Delta State, Mr. Thomas Ereyitomi, Peoples Democratic Party, PDP, House of Representatives candidate for Warri federal constituency, and Mr. Guwor Emomotimi, Warri South-West constituency PDP candidate for state House of Assembly, have been urged to attract development to Diebiri Kingdom when elected in 2019.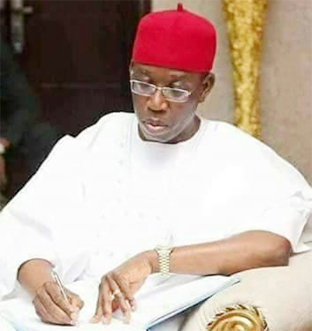 Diebiri Governing Council's Chairman, Mr. Michael Douglass; Secretary, Kingsley Oluba, and Mr. Igetei Bob-Collins, made the call in a statement congratulating Governor Okowa over his emergence as PDP candidate, charging him to address the absence of projects in Diebiri as well as appoint their sons and daughters into his government.
2019: APC stalwart makes case for Delta North governorship
The statement also tasked Ereyitomi and Emomotimi to attract Federal and state projects to the oil-rich kingdom, when they come on board in 2019, assuring all the PDP candidates of block votes, as the kingdom has always remained PDP.
Okowa scores administration high on universal health coverage
They, however, lamented that "there is nothing to show for the huge revenue from exploration of crude oil from the area in the kingdom. But as peace-loving people, we will continue to make passionate appeal to the Federal and state governments."
Source: https://www.vanguardngr.com/2018/10/council-tasks-pdp-candidates-on-diebiri-kingdoms-devt/