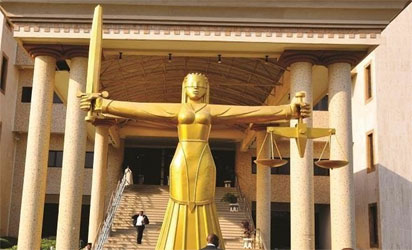 By  Afe  Babalola
Last week I introduced a discussion of how lie telling can be categorised and how given some circumstances, lie telling may or may not be criminal. This week I intend to relate the background already made to recent events in the world and particularly Nigeria's political climate. It is however important to firstly state that there are instances where the law expressly criminalises the conduct of lie telling.
The Criminal Code Act in sections 117, 120 and 125a provide for instances when the making of false statements or lies attract criminal sanctions. They provide as follows:
Perjury
Any person who, in any judicial proceeding, or for the purpose of instituting any judicial proceeding, knowingly gives false testimony touching any matter which is material to any question then pending in that proceedings, or intended to be raised in that proceeding, is guilty of an offence which is called perjury.
It is immaterial whether the testimony is given on oath or under any other sanction authorized by law.
The forms and ceremonies used in administering the oath or in otherwise binding the person giving the testimony to speak the truth are immaterial, if he assent to the forms and ceremonies actually used.
It is immaterial whether the false testimony is given orally or in writing.
It is immaterial whether the Court or tribunal is properly constituted, or is held in the proper place, or not, if it actually acts as a court or tribunal in the proceeding in which the testimony is given.
It is immaterial whether the person who gives the testimony is a competent witness or not, or whether the testimony is admissible in the proceeding or not.
The offender cannot be arrested without warrant.
120 Fabricating evidence
Any person who, with intent to mislead any tribunal in any judicial proceeding –
(1) Fabricates evidence by any means other than perjury or counseling or procuring the commission of perjury; or
(2) Knowingly makes use of such fabricated evidence,
is guilty of a felony and is liable to imprisonment for seven years.
The offender cannot be arrested without warrant.
125A Making false statement to public officers with intent
    Any individual who gives any information which he knows or believes to be false to any person employed in the public service with the intention of causing such person –
    To do or omit to do anything which such person ought not to do or ought not to omit to do if the true facts concerning the information given were known to such person, or
    to exercise or use his lawful powers as a person employed in the public service to the injury or annoyance of any other person,
is guilty of an offence and liable to imprisonment for one year.
    A prosecution for an offence under this section of this Code shall not be instituted –
    without the consent of a superior police officer; or
    where in any division an administrative officer has been duly appointed to have charge of the police therein under the provision of section 7(i) of the Police Act.
without the consent of that administrative officer.
The sexual assault cases of Bill Cosby and Brett Kavanaugh
Recently the issue of lie telling has attracted immense attention in world affairs. Many have found themselves subject to scrutiny on account of actions or inactions credited to them at one point or the other in their life and this has particularly been so in respect of men accused of one act of sexual misconduct or the other. Several years back it was Bill Clinton, the then President of the United States who faced up to immense criticism as a result of his relationship with a white House intern. Recently, the famous comedian, Bill Cosby and Brett Kavanaugh of the Supreme Court of the United States went through the same process. However Bill Cosby is at the moment an inmate at the State Correctional institution in Phoenix, Brett Kavanaugh sits on the highest bench in the United States. What is however striking about the two cases is that the roles lies have played in both. I state this as in both cases, it must be accepted that someone must have told a lie. The accusations of sexual misconduct in both cases date back years before they were reported. Cosby was alleged to have started assaulting women as far back as the 1960s and was eventually convicted on accounts of assaults committed in January 2004. Kavanaugh on the other hand had his nomination process to the Supreme Court bogged down by accusations that he has assailed a school mate in the early 80s. In both instances, the accuser and the accused both stated that they were telling the truth. However as both could hardly be said to be telling the truth, it is clear that someone was lieing. Who was it? and Was it the accuser or the accused? While in Cosby's case, the system has adjudged him to be the lier, Kavanaugh has been somewhat given the benefit of the doubt. That is why their fates are different.
As strange as it is, the same scenario plays out daily in our courts of law where judges have to determine which side to a dispute to believe. Often witnesses come with totally differing stories in support of their divergent claims. The cases in which parties agree on the facts, requiring only the court's application of law to these facts are few. To aide them, judges have devised various means to determine just who is telling the truth and who is lying. Some of these include watching the demeanour of witnesses or using available documentary evidence as a hanger upon which to test the veracity of oral evidence preferred by a witness. It is particularly as a result of the former that appellate courts hardly disturb the findings of facts made by a trial judge who had the opportunity of seeing and listening to the witnesses, intervening only where it is shown that the findings are perverse and or that the Judge did not make adequate use of the opportunity available to him.
Despite the above, it must be understood that deciding who to believe or who to disbelieve is hardly an exact science.This is more so where the liberty or reputation of a party to litigation or dispute is involved as in the case of Bill Cosby and Brett Kavanaugh. To guard against the effects of this, the law does not allow certain cases to be filed after a given period of time. This is known as limitation period. Thus after the expiration of a number of years a person aggrieved by the conduct of another cannot bring a claim in court.
Claim in perpetuity
This is to ensure that nobody is allowed to keep a claim in perpetuity and also to guarantee that anyone who is dragged before a court is able to defend himself. this may not be so if those he would have called as witnesses are late or where documents he would have relied on have become untraceable. In matters affecting government it is designed to ensure that government decisions are free from unending litigation. However unlike the United States, limitation does not apply to criminal proceedings in Nigeria. As a matter of fact it was on account of the fact that most of the accusations agains him were caught by limitation statutes that Bill Cosy was only arraigned and convicted for the offences committed in 2004. It would help if the same or similar provisions be passed here to ensure that certain crimes are investigated and prosecuted within a certain period of time.
Next week, I will examine lie telling in relation to politics in Nigeria.
Source: https://www.vanguardngr.com/2018/10/when-lie-telling-may-not-be-criminal-2/