By Emman Ovuakporie
to ensure that the over N13 billion spent on the dredging of Warri  Port is not wasted, the lawmaker representing Warri Federal Constituency in the House of Representatives, Mr. Daniel Reyenieju has called on the Federal Government and the management of the Nigeria Ports Authority ,NPA, to designate the port as the nation's export destination.
Reyenieju stated this while briefing newsmen on the need to decongest the Apapa port in Lagos by moving all export-related activities to Warri port and making it a corridor for both originating shipments and empty containers.
The lawmaker whose motion in the House led to the dredging project, advised that it would be economically unwise for such an amount to be spent dredging the port only to starve it of maritime activities that could generate more revenue for the government.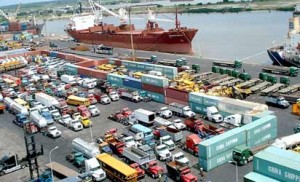 He said: "What I am calling on the federal government to do  is a matter of policy. This has got nothing to do with laws.  It is just an operational policy of the Ministry of Transport and the Nigerian Port Authority is to designate the Delta Port as an export zone or export destination."
"Whatever that needs to be exported out of this country should go out through that corridor while whatever that needs to be imported can come in through the Lagos Port and any other port. That may not foreclose the need to export a few oil and gas products through the Warri port.
"Delta is the only state in this country that has four ports; Warri Port, Sapele Port, Koko Port, and Burutu Port. These are heavy cargo ports in terms of petroleum export terminals.
"When I brought the motion to the House, it went through and the executive saw the need to act on it and the contract was awarded three months ago to a very reputable company.''
Source: https://www.vanguardngr.com/2018/10/designate-warri-port-as-nations-export-destination-reyenieju/