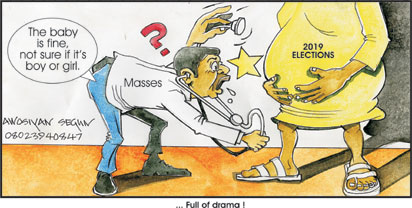 By Harris Emmanuel
The All Progressives Congress, APC, governorship candidate in Akwa Ibom State, Nsima Ekere, has picked a former state chairman of the party, Dr. Amadu Atai, as his running mate.
Ekere made the announcement on his official Twitter handle, @NsimaUEkere, which was confirmed by his media aide, Utibe Ukim.
Peter Obi's choice as Atiku's running mate excites Enugu residents
Sources said the choice was made after consultations with party leaders and other stakeholders who opted for the Uyo Senatorial District to produce the running mate to the APC candidate.
Ekere, who hails from Akwa Ibom Eket Senatorial District, has pledged to serve one term after which he would hand over to someone from  Uyo Senatorial District.
He described his running mate as an industrious and detribalised party man, who built bridges of unity during his tenure as the party chairman in the state.
He said: "I am delighted to announce that I have chosen a hardworking, dedicated party and family man, Dr. Amadu Atai, as my running mate for the 2019 governorship election in Akwa Ibom State.
"Dr. Atai is an extraordinary intellectual with a Ph.D. in Political Science. I am honoured to have known and worked with this detribalised son of Akwa Ibom State, who has worked very hard to build bridges of hope and opportunities for our people.
"As the founding state Chairman of the APC, Atai worked tirelessly to build a strong and formidable party in Akwa Ibom State.
"He will be a good deputy governor. His passion for the progress of Akwa Ibom State makes him the right choice."
Source: https://www.vanguardngr.com/2018/10/2019-ekere-picks-ex-apc-state-chair-as-running-mate/