By Rotimi Ojomoyela
Ado-Ekiti-The out going Governor of Ekiti Ekiti State, Mr Ayodele Fayose, on Friday presented a handover note to the state's Head of Service, Dr. Gbenga Faseluka.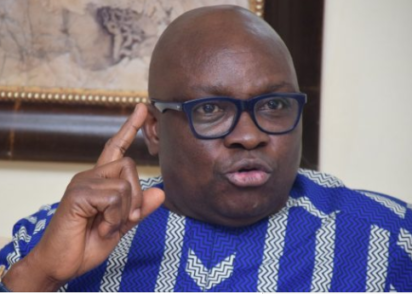 This was just as the Governor told the embattled Speaker, Hon Kola Oluwawole to accept his impeachment in good faith, saying it is a price of leadership.
The handing over took place during the valedictory session of the State Executive Council meeting at the new Governor's office in Ado Ekiti yesterday.
He also inaugurated the new Speaker's lodge, named Rt. Hon Kola Oluwawole's residence.
He told the former Speaker to accept his impeachment in good faith, saying "If
I were you, in the interest of Ekiti, I will tell them to carry on. Everything works for good."
At the event which was witnessed by some traditional rulers, the outgoing governor thanked the people of the state for the opportunity to serve.
He urged them to extend same cooperation to the incoming administration in the interest of the development of the state.
Fayose said, "What has a beginning must have an end. It is not the number of years spent but the quantity and quality of achievements.
"I thank the people of the state for their cooperation and urge them to extend same to the incoming administration. There should never be a vacuum; our priority must be Ekiti in but discharge of our duties.
"I'm a man who came, saw and conquered. I can't finish all, I have done my best. History will be kind on me as a man who has given his best to the people. I will remember all for your support, I bear no grudges against anyone."
Fayose said he would be available to answer any question on his administration.
The Commissioner for Finance, Toyin Ojo and that of Works, Mrs. Funmi Ogun, who spoke at the event thanked Fayose for the opportunity to serve.
Source: https://www.vanguardngr.com/2018/10/fayose-presents-handover-note/