The Edo State Governor, Mr. Godwin Obaseki, has proffered a more robust partnership involving state actors, the organised private sector (OPS), donor agencies, research institutes, charities and governments, in the treatment of mental illnesses.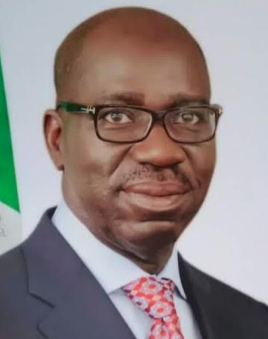 Obaseki made the submission in commemoration of the celebration of World Mental Health Day, marked on October 10, each year.
The governor decried the attitude of many societies towards people having mental health problems and called for a change.
"Across the globe, some societies still discriminate against people with mental health problems. This attitude further compounds efforts by governments, experts and other stakeholders at designing products for the treatment of patients and reintegrating them into the society," he said.
Obaseki explained that people with mental health problems deserve our love, care, understanding and support and urged thought and opinion leaders in communities across the globe to lead the fight against exclusion, stigma and prejudices held against sufferers of mental illnesses.
"As a government, we have delineated our health system for easy appreciation of the roles required by all stakeholders in the sector. We have commenced the construction of primary health centres across the state to reach all Edo people and residents irrespective of where they reside.
"The Benin Specialist Hospital will be open to offer specialist care to patients before the end of the year and we have received letters of intent from experts in the health sector, who want to partner with us to ensure that our health system can meet the needs of our people," he added.
Celebrating the 2018 World Mental Health Day, the World Health Organisation (WHO), urges regular checks for symptoms of mental illnesses beginning at a young age.
"Half of all mental illness begins by the age of 14, but most cases go undetected and untreated. In terms of the burden of the disease among adolescents, depression is the third leading cause.
"Suicide is the second leading cause of death among 15-29-year-olds. Harmful use of alcohol and illicit drugs among adolescents is a major issue in many countries and can lead to risky behaviours such as unsafe sex or dangerous driving. Eating disorders are also of concern," the WHO said.
With the theme, "Young People and Mental Health in a Changing World" the United Nations specialised organisation, stressed that "Adolescence and the early years of adulthood are a time of life when many changes occur, for example changing schools, leaving home, and starting university or a new job.
According to WHO, "For many, these are exciting times. They can also be times of stress and apprehension however. In some cases, if not recognised and managed, these feelings can lead to mental illness.
"The expanding use of online technologies, while undoubtedly bringing many benefits, can also bring additional pressures, as connectivity to virtual networks at any time of the day and night grows.
"Many adolescents are also living in areas affected by humanitarian emergencies such as conflicts, natural disasters and epidemics. Young people living in situations such as these are particularly vulnerable to mental distress and illness."
Source: https://www.vanguardngr.com/2018/10/obaseki-proffers-multi-sectoral-partnership-on-treatment-decries-stigma/