By Emma Amaize, Regional Editor, South-South
ALL Progressives Congress, APC, governorship aspirant in Delta State, Prof Pat Utomi, who lost out in last Sunday's  primary won by Chief Great Ogboru, yesterday, warned that the party will lose the 2019 gubernatorial election  in the state  if the injustice done to the people of Delta North was not redressed.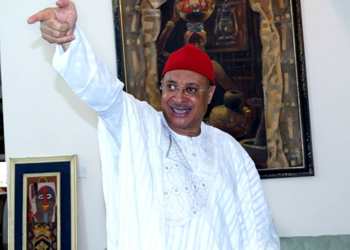 Utomi, who called for calm among Deltans as he and others legitimately pursue the process of reversing the "coup" against the people of Delta North , said there was no gubernatorial primary as purported by the party.
He told reporters in Asaba that the nine local government areas of Delta North would not vote APC in the 2019  election in view of the monumental injustice wreaked on them with the coronation of Ogboru.
He accused the Prophet Jones Erue-led executive of the party of working for Ogboru, who he described as one of the governorship aspirants, despite his clearance by the party as its Delta governorship candidate, disclosing that, on July 25, he alerted the National Chairman of the party, Comrade Adams Oshiomhole, about pervasive rumours that the party structure in the state had been handed over to Ogboru.
On the Erue executive, he asserted: "The executive committee led by Jones Erue has effectively been part of the campaign organization of one of the aspirants, Chief Great Ogboru, and he is incompetent to continue as the Chairman of the party."
Regarding his threat to quit the party if the issues were not addressed, he said: "On July 25, I sent a text to the National Chairman telling him that rumours going around is that Jones people are going about telling people that you (Oshiomhole) are behind them in what they are doing."
In the text message read to reporters, he said: "We pray that it is not true, if it is true, my reaction will be to quietly resign from the party because Oshiomhole would violate everything I know about proper process."
Source: https://www.vanguardngr.com/2018/10/utomi-explodes-says-apc-will-lose-delta-governorship-if/