•As  Ibori finally takes stand, joins Okowa, Oyovabire, Akpeki to brainstorm
•Uduaghan, Ogboru, Omo-Agege, Ojougboh scheme to dismantle PDP machine
•Informal power rotation treaty among Delta Central, South, North at risk
Emma Amaize, Regional Editor, South-South
SINCE the current political dispensation started in 1999, at least six governorship elections, including a re-run, had been held in Delta State with a political coalition led by a former governor of the state, Chief James Ibori, emerging victorious on each occasion on the platform of Peoples Democratic Party, PDP, but the 2019 battle promises to be brawny for many reasons.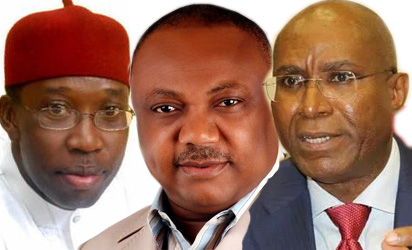 Blown apart
For nearly 20 years, the coalition known as Ibori political family had labored as a united front, but the relationship was shattered in August, when perhaps the number two man in the hierarchy of commanding group, also a former governor of the state, Dr. Emmanuel Uduaghan, decamped from PDP to the All Progressives Congress, APC.     Besides Ibori and Uduaghan, other string pullers of the assemblage include the incumbent governor and apparently number three in the chain of command, Senator Ifeanyi Okowa, Senator Peter Nwaoboshi, Senator Ighoyota Amori, Senator James Manager, Chief Strategist to Delta State Government, Chief Paulinus Akpeki, former Secretary to State Government, SSG, Comrade Ovuozorie Macaulay and Hon Solomon Funkekeme. There are copious foot soldiers.
Dr. Uduaghan, who disclosed that he had handled more elections than others, one in 2007, the other in 2010 and another in 2011, has intriguingly joined forces with the main opposition figure in the state, an Urhobo political leader with a cult-like following, Chief Great Ogboru, prevalently known as the People's General to outfox his former party over diametrically opposed differences with his successor, Senator Okowa.
Ogboru, a five-time governorship aspirant had contested all governorship elections in the state since 1999 on the platforms of diverse parties, including Alliance for Democracy, Democratic People's Party and Labour Party. He does not see eye to eye with Ibori, the leader of PDP's power machine that has made his governorship dream unrealizable for practically two decades.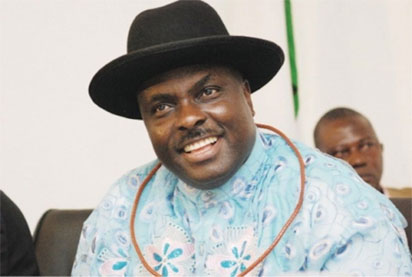 It is spot on that if not for Ibori's presence and foot works in the political firmament of the state, even when he was in hibernation outside the country, Ogboru would have realized his dream of being governor of the state.
Omo-Agege, Ojougboh, Emami, Igbuya as new associates
However, Uduaghan, who had boasted that APC would sack PDP from power in 2019, is not alone in the fight back. He is robustly assisted by another Ibori devotee and former SSG, Senator Ovie Omo-Agege representing Delta Central in the Senate.   He defected to the APC long before Uduaghan from the Labour Party after he lost out, years back, in a PDP power play in his senatorial district.
Also, former Deputy National Chairman of PDP and APC governorship aspirant, Dr. Cairo Ojougboh, Prime Minister of Warri Kingdom, Chief Ayiri Emami and ex-Speaker of Delta State House of Assembly, Rt. Hon Monday Igbuya, who lately decamped to APC, all Ibori men, have sworn to unseat PDP.   Until his sack as Speaker, some months ago, Igbuya sang the Okowa 2019 hymn more than any other government official.
Uduaghan at Ogboru coronation
For those who considered the unfolding scenario a delusion, Dr. Uduaghan, who has emerged an   influential power broker in Delta APC was at Federal College (Technical), Asaba, where the party's governorship primaries held, and coroneted Ogboru with others as governorship standard bearer for the 2019 elections.
Uduaghan clashed with Ogboru three times in eight years before and after he assumed office and the Ibori political family rolled out its awesome tanks to crush the 'rebellion' on each occasion. With the fierce combats, political pundits could not have predicted a reunion of both men in the manner it happened in August, barely two months back.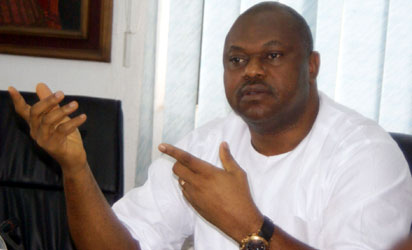 Ibori stands by Okowa
Ironically, Ibori was at the Cenotaph, Asaba, venue of the PDP governorship primaries to endorse Okowa, the sole governorship aspirant of the party with other PDP family members, including Senators Nwaoboshi, Amori, Manager, his former deputy, Chief Benjamin Elue and others.
Ibori restated at the event that he remained unswerving to PDP, describing Okowa as a very humble man, who was fully committed to the development of the state. He thanked party members for their loyalty and commitment to sustenance and growth of the party, expressing happiness that no party member challenged the governor at the primaries.
On his part, the governor observed: "Because God is with us, there is nobody that can be against us, that person will go down the valley. We are strong and we will continue to be strong, we will go forth into the election and we will win landslide. I am proud because I have each and every one of you, so we cannot fear."
Impending epic replay
In fact, PDP, which had won all the governorship elections so far in the state, has never ceased boasting that Delta is its territory. When the national chairman of APC, Comrade Adams Oshiomhole recently boasted that his party would take over the state, former Minister of Information and Okowa's political godfather, known in Delta as Father of Government, FoG, Prof Sam Oyovbaire, took him to the cleaner, querying the impudence of Oshiomhole, who is not a registered voter in the state to make such a dictatorial pronouncement.
Ogboru first confronted Ibori in 1999, he tackled him again in 2003 on the platform of Alliance for Democracy, AD and in 2007, he brazened out as Democratic People's Party, DPP governorship flag bearer against Uduaghan.   He also squared up again against Uduaghan in a re-run in 2010 after the latter's election was annulled, and the third time in 2011.
He faced up to Okowa on the platform of Labour Party in 2015 and unfortunately, lost all the battles, but he would have another lifetime opportunity against Okowa in 2019, this time on the platform of APC.
Ibori from Delta Central senatorial district, same as Ogboru, ruled the state from 1999 to 2007; Dr. Uduaghan from Delta South presided over affairs of the state from 2007 to 2015 and Okowa, who is from Delta North, will complete his first tenure by 2019.   Though the arrangement is PDP- stimulated, it has balanced power equation in the state since 1999 and the reasonable expectation of Deltans is that Delta North should complete its eight-year tenure by 2023 for Delta Central to kick off another round of eight years.
Nonetheless, APC leaders from Delta Central contend that whatever the existing power rotation contraption is worth, it was an idea of PDP, which had nothing to do with the party. Some of them do not see any reason why Delta North should have another shot at governorship of the state in 2019, whether under PDP or APC.
As the Chief Strategist to the Delta State Government and a trusted political tactician, a lot is expected from the Ugo of Okpe Kingdom in Delta Central senatorial district,   Chief Paulinus Akpeki, who is already putting heads together with his field team and re-strategizing with Ibori, Okowa , Oyovbaire and others on how to stop APC.
Smouldering crisis
APC is, however, facing an in-house crisis that is threatening its unity. The party is factionalized. At the conclusion of governorship primaries, last weekend, two of the party's governorship aspirants, Rt Hon Victor Ochei and Prof Pat Utomi were miffed that the delegates' list, which was never shown to them was deliberately arranged to favour Ogboru.
Another faction of the party led by Olorogun O'tega Emerhor with a parallel state executive headed by Mr. Cyril Ogodo held a corresponding governorship primary that produced Utomi as the party's flag bearer for the 2019 general election. The mainstream group that produced Ogboru is known as the Ogboru/Omo-Agege APC with Prophet Jones Erue, recognized by the national leadership as state chairman.
The infighting has been so intense that when the Erue group expelled Ogodo and his team from the party days to the last weekend's primaries, the Ogodo team also fired back by expelling Erue and his group from the party. For APC in the state, it has been a house of commotion.
Anioma outraged, APC'll pay dearly for it – Ochei
Talking about the place of Delta North, APC governorship aspirant, Rt. Hon Ochei told Saturday Vanguard that based the unofficial power rotation arrangement in the state; his party should have nominated a governorship candidate from his senatorial district, Delta North. He views the emergence of Ogboru as an imposition on the party by some power lords.
Under the present circumstance, Ochei said he would not work for Ogboru because his senatorial district (Anioma) was robbed of the opportunity to produce the party's flag bearer. His words:  "What happened is what happened, everybody saw it, I will definitely not (that is work with Ogboru) because an election was not held.   If an election was held and after the election, a winner emerges from the process, it is fine, but you do not coerce people to work for you."
"This is intra-party election; therefore, everybody ought to be carried along. I have my right as a party member and if you trample on that right, how do you expect me to come and work for you tomorrow."
On his likely defection from the party, the former Speaker said: "I am not leaving the party no matter what, I still remain a member of the party and I hope that the party will address the issue. You do not undermine the feelings of an ethnic nationality, not in a state like Delta, I am sure the party will pay dearly for it."
Inconsolable Utomi
Prof Patrick Utomi, another governorship aspirant from Delta North,   who raised the alarm about the defective process leading to the primary and called for   postponement until appropriate corrections were made,   but was ignored, said he would send a formal petition to the national leadership of the party to do the needful in the next few days.
His words: "I will petition the appropriate organ of the party, if I go through due process and they fail to do the right thing, if they decide that this is okay by them, then I will quietly resign my membership of the party, become non partisan, but never give up on the fight against obnoxious coup plotters, who plotted against the military, against civilians and against the constitution of the country. This cannot be the legacy we will leave for our children."
Only Dr. Ojougboh, who also faulted the primary and indeed pulled out his men, accepted the supremacy of the party and pledged to work with Ogboru. To him, what should be uppermost to APC at the moment was how to send PDP packing, not who is the party's governorship standard bearer.
Task before Uduaghan
That leaves Dr. Uduaghan, who has saddled himself with the task of reconciling the warring parties in APC before the 2019 general elections with a full-size problem.   How, for instance can he get Olorogun Emerhor, the undisputable founding father and leader of the party in the state to accept the 'lordship' of Chief Ogboru and Senator Ovie Omo-Agege in particular over him in the house that he built? What will be adequate compensation for him?
Also, how can he prove to Ochei, who still has an axe to grind with him (Uduaghan) over his dethronement as Speaker, that the primaries which produced Ogboru was free and fair, and that Delta North should forfeit the governorship to Delta Central senatorial district when he (Uduaghan) knows or ought to know that it was the turn of Anioma has not completed its eight-year tenure, be it under APC or PDP government.
"Uduaghan completed Delta South's two terms of eight years, why should Delta North not complete its two terms of eight years, even if it is under an APC government? A Delta North APC chieftain asked.
For Prof Utomi, it is a different kettle of fish altogether, as he whispered to Saturday Vanguard he would resign from the party and be non-partisan, except the right thing was done.
Somehow, many APC leaders and stakeholders, including Ogboru, who is the now the gubernatorial flag bearer verily believe in Uduaghan's phenomenal competence to swing the pendulum for the party. All the aspirants consulted him before last weekend's primaries soliciting his incalculable support.
Season of political confessions
In fact, at a meeting with APC chairmen in the three Warri locals government areas and other party chieftains from Isoko and Ijaw to canvass for votes from delegates, Uduaghan revealed  that his 'John the Baptist' role include weeding his home local government (Warri North) of external influence causing friction in the party, adding:    "The APC that I have joined is the one that will win election in 2019. But first, for us to win election, we must be united and that is one of my major assignments upon moving to the progressives fold. I can't be a John the Baptist if I can't organize my house."
He indicated that he was one of the major factors APC in the three Warri local government areas and the state at large had not been able to win as low as a councillorship position in previous elections, vowing: "I have come with the winning streak. We shall defeat PDP in 2019 in Delta state."
"When I was on the other side, I clipped the wings of the APC. But today, I am here to reposition APC to takeover power from the failing PDP come 2019," he said.
Former Speaker, Igbuya, who is gunning for House of Representatives, Sapele/Okpe/Uvwie federal constituency on APC platform, had similarly declared at a meeting convened by   Ogboru with party leaders in Delta Central: "I want to say it is true that you  (Ogboru) have  been winning elections, but (we) the PDP have been the witchcraft."
He added: "I want to apologize openly that what we have been doing before, we will undo now. I made bold to say that I and my colleagues Uvwie, Okpe and Sapele constituency will deliver Buhari, Senator Omo-Agege and Chief Ogboru. The fact that  I  am here with you, carry go."
The summary of Igbuya's declaration is that Ogboru had at all times won the governorship elections conducted in the state, but was rigged out by PDP.
Oyovbaire tears Uduaghan, APC apart
However, Prof Oyovbaire, who also spoke to Saturday Vanguard, countered the   charge and importance the   latter-day APC converts, including Uduaghan,   attach to themselves and their preposterous brag to overrun PDP in the state, saying it was impossible, as Delta is a PDP state.
He said:    "Well, we are going to witness whether he (Uduaghan) can sustain his importance at home and outside his home by his going to APC. It is left to us to observe and we are not going to take it for granted that because PDP is strong in Delta and go to sleep, we must work harder."
According to him, "Uduaghan went through three elections, the one that brought him to power in his first tenure, the second one that brought him to power again and a re-run election and we can look at the figures. We know where his strength was and where his weaknesses were. We know how the strength was made up and how the weakness also counted."
"If we are using comparative figures and we prepare that kind of analysis, we can say that even in his own local government area, Warri North, I do not believe that His Excellency, Dr. Uduaghan will be so good in performance when the elections are conducted, next year, to the point that he will necessarily overrun any opponent, I am talking about his local government."
'Nuisance value'
"Then when you dash across his ethnic nationality, it is worse and you now go to the senatorial district where you have three ethnic nationalities in the district. In fact, the entire thing gets mixed up and I know that his presence in APC will add a lot of, permit the word, nuisance value to the APC in Delta.
"He will add more to the nuisance value because his ability to encourage others, ability to create dissension, we know all these, we have studied all these, we have studied all the elections in this country since when elections started and almost by every election, it gets worse and worse.
"One strategy for example is that if you know that you cannot win election in one, two or three polling booths, then make sure you do not allow election to hold there, you disturb the process, that is the kind of nuisance value they have in mind when you get into a situation that you cannot win, you create scenarios for cancellation," he said, adding that PDP was ready for them.
Source: https://www.vanguardngr.com/2018/10/2019-what-okowa-ogboru-rematch-in-delta-bespeaks/