Political leaders and elder statesmen of the North West under the aegis of the North West Progressives Forum (NWPF) have adopted former governor of Kaduna state, Sen. Ahmed Makarfi as the region's consensus candidate going into the Presidential Primaries of the Peoples Democratic Party, PDP, scheduled to hold on Saturday the 6th of October, 2018.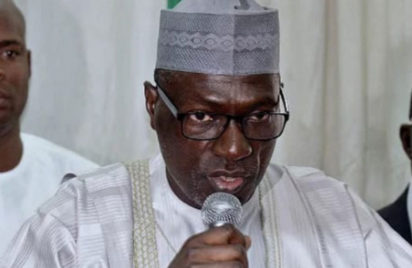 Giving reasons for the adoption of Sen. Makarfi, spokesman for the group Mal. Isa Saleh Funtua, argued that the North West has the highest number of registered voters in Nigeria, and exerts the most influence on the outcome of presidential elections, so must play an active role in deciding which way the 2019 contest goes.
Mal. Saleh Funtua said the NWPF dispassionately considered all the talented aspirants from the region hoping to run against Buhari in 2019, and initially managed to narrow it down to four candidates who could not only win the Primaries but more importantly defeat Buhari in the Presidential Election next year.
"We considered Lamido, a fine gentleman with the political sagacity to defeat any challenger. Unfortunately, the man has an ongoing EFCC case against him, and you know how brutal this APC people are, so he was a few people's first choice but we could not risk it", Alhaji Saleh Funtua said.
"We then looked at Kwankwaso. No doubt he is the most popular North West candidate, and perhaps the only one who can actually defeat APC in the region, but let us tell ourselves the truth – we did a poll among our brothers and sisters in the South and his candidacy was surprisingly the most resisted. We believe people misunderstood his style of governance when he was governor, and now incorrectly think he is a fundamentalist. He is a gentleman, but the South has formed a biased opinion against him and will not support him, that is the truth.
"The third aspirant we considered was Governor Aminu Tambuwal. It is unfortunate that this gentleman has allowed his candidacy be hijacked by Governor Wike. Yes, he enjoys immunity, but Tambuwal hasn't managed to galvanise widespread political support. Even worse, it appears Wike wants to impose him and the North West cannot allow Wike from his parlour in Port Harcourt decide what is best for us, and for Nigeria. That is not democracy! We think it was very politically naïve of Tambuwal to have allowed this happen. We are not the APC that has godfathers like Tinubu who single-handedly decide what happens within the Party.
"So we have settled for Sen. Makarfi as the man whose candidacy best protects and promotes the interests of the North West and of Nigeria. He was a governor of Kaduna state; he has been a Federal Senator, and he showed his political dexterity when he held the PDP together as its National Caretaker Chairman. Sen. Makarfi is seen by Northerners and Nigerians as a man of integrity and perhaps more importantly he is a unifier. Nigeria has never been this divided before, and just as Sen. Makarfi united Kaduna during his tenure as Governor, we expect him to unify Nigeria once he becomes President."
The NWPF say they are currently communicating their decision to prominent leaders of the country like Olusegun Obasanjo, Ibrahim Babangida, Abdulsalami Abubakar, Edwin Clark, Tony Anenih, Ango Abdullahi, Goodluck Jonathan, Ayo Adebanjo, TY Danjuma, Bishop Kukah, the Emir of Kano and the Sultan of Sokoto, including groups such as Afenefere, Ohaneze, PANDEF, and ACF.
"This is not a selfish decision we have reached. We believe the 2019 elections will be a contest for the very soul of Nigeria, and that we cannot afford personal ambition to get in the way of rescuing Nigeria. Even though he is a dark horse, we 100% believe that Sen. Makarfi is the only candidate able to galvanise the national support from North to South needed to remove Buhari in 2019."
Source: https://www.vanguardngr.com/2018/10/2019-presidency-north-west-forum-endorses-makarfi-for-pdp/