John Mikel Obi says he played in a World Cup match in 2018 for Nigeria not knowing if he would come off the field to find out his father had been shot.
The midfielder was told before facing Argentina that his father had been kidnapped for a second time.
Mikel, 31, reportedly paid 10m naira (about £21,000) for his release.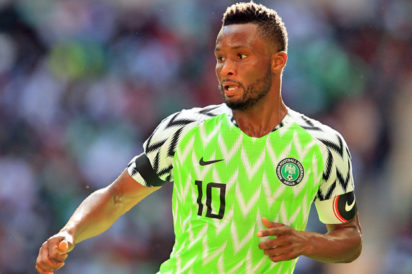 "I thought I was going to lose my dad, I thought he was going to be shot because of the demands and stuff," he told BBC World Service's Sportsworld.
"They said they would shoot him and in the back of my head during the game I thought that after the match I would probably find out they had decided to shoot him.
"It's life. It's made me stronger as a person. I can look at so many things and say 'this is not going to shake me because I've been through worse'. I just hope that it never happens again and my dad can enjoy the rest of his life in peace."
Mikel, now playing for Championship club Middlesbrough, found out while he was on his way to the St Petersburg Stadium for the World Cup group game in June that his father and his driver had been kidnapped at gunpoint in Nigeria.
The former Chelsea man said that he chose not to tell anyone what was happening as he wanted the players to focus on the game.
"It was difficult for me. When I heard that it had happened it was heartbreaking for me, especially with the timing. I knew it would be traumatic for my dad," he said.
"I didn't say anything to anyone in the national team because I was the captain and I had to lead. It was my responsibility to lead the team and I wasn't going to say I couldn't play or have them thinking about my dad rather than the football. I took it on myself and held it in.
"It stayed in my head during the game and you could see afterwards how I felt."
This month, Mikel's national team-mate Samuel Kalu suffered a similar ordeal when his mother was kidnapped in the south-eastern city of Abia.
Source: https://www.vanguardngr.com/2019/03/mikel-obi-i-thought-kidnappers-had-shot-my-father/