Paris Saint-Germain coach Thomas Tuchel has called for the club's angry fans to rally behind the club as they try to put the pain of Champions League humiliation behind them.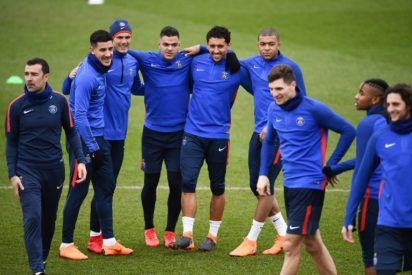 Frustrated fans turned on the players, booing them at training and organising strikes, after PSG gave up a 2-0 lead against Manchester United to be once more dumped out of the Champions League at the last-16 stage.
Despite vast investment from their Qatari owners PSG's loss on away goals to United added to a legacy of choking in the competition, after they went out lamely to Real Madrid last year and collapsed at Barcelona the year before.
PSG host their bitter Ligue 1 rivals Marseille on Sunday, the only French club to have won the Champions League (when it was the European Cup), and some fan groups have said they will not cheer their own team.
"If they do that I will be very disappointed," said Tuchel.
"I know they are disappointed, but they have no need to keep showing it again and again," said the German coach, mainly in reaction to rowdy scenes at a training session last weekend.
"A strike helps nobody," he insisted.
Neymar risks Euro ban after UEFA open probe into foul-mouthed ref rant
"We the team and the staff are the ones left more disappointed than anyone else.
"In a match like this it's crucially important, they can fill us with confidence," he said as Marseille come to Paris on a roll of form since Italian striker Mario Balotelli joined in January.
"With him (Balotelli) in the side they will always have a presence in the box and they will be pinging in crosses."
"They will be targeting our back post and we'll have to be careful," he said.
League leaders PSG have 74 points and go into the game against fourth placed Marseille, who have 47, with a string of injuries as Neymar, Edinson Cavani and Julian Draxler all sit out perhaps the most prestige match remaining in the French season.
Source: https://www.vanguardngr.com/2019/03/we-need-you-psg-tell-rebel-fans-ahead-of-marseille-crunch/