By the time Nigeria's Africa Cup of Nations training camp rolls around in May, it will have been closing on 11 months since team captain John Obi Mikel last pulled on the Super Eagles strip.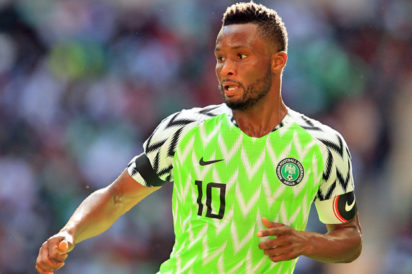 Nigeria captain Mikel out of Egypt, Seychelles matches
Mikel's post-World Cup absence when he missed the AFCON qualifier against the Seychelles, and then the double-header against Libya, was initially put down to injury.
He was expected to return for the important AFCON qualifier against South Africa in Johannesburg in November, when the Super Eagles secured passage to the finals with a 1-1 draw, but coach Gernot Rohr told ESPN in late October, when he announced his squad for Bafana Bafana and also to face Uganda in a friendly, that Mikel had not indicated he was ready to return to international action.
In response to Rohr's comments Mikel was quoted as saying that his "commitment to the national team remains 100 percent" but then he suffered a season-ending muscle injury, before the fixture against South Africa, as his then Chinese club battled against relegation, ultimately avoiding the drop.
The Nigeria skipper said subsequently that he had "been on a break, I am not tired yet" but five months on he still has not been involved in a Super Eagles squad since the 2018 World Cup in Russia; it is a situation that has led to some raised eyebrows around the country.
When Mikel played in Nigeria's final game at the World Cup, the 2-1 defeat by Argentina, he did so bearing the burden of knowledge that his father, Michael Obi, had been kidnapped back home.
Pa Obi was eventually released, but it was a traumatic experience for the midfielder; indeed it was the second time that his father had been kidnapped, but a source close to Mikel told ESPN subsequently that the incident was not a factor in the player's extended absence.
"Mikel has put that behind him," the source said.
"He remains committed to playing for Nigeria."
Now injury free and enjoying a fresh lease of life at Middlesbrough, the English Championship club he joined from Tianjin TEDA in January, the Nigeria skipper should have been the first name on the squad list for the qualifier against the Seychelles and the friendly against Egypt five days afterwards. But once again, he was not included.
Again Rohr said that the absence was down to the player. "Mikel is back in the competition," he said.
"But he feels still not ready to come. "His knee is fragile and he needs the best conditions to play."
A senior team official, who spoke anonymously, added context to Rohr's comments.
"Of course we would like to see him back in the squad," the official said
"But no one wants to create the impression that he is either being forced to return, or being begged to come and play. Everything is fine. There is no friction and he will be back when he is ready."
There is an additional clue to be gleaned from Rohr's statement.
The German — reflecting his players' views — has had cause to complain about the state of the pitch at the Stephen Keshi Stadium in Asaba, where the Super Eagles are due to host the Seychelles in their final AFCON qualifier on March 22.
That stance put him in the Nigeria Football Federation's crosshairs, but it is well known that Mikel is tetchy about playing on bad surfaces because of his history of knee injuries.
So it is entirely possible that although Mikel is looking fully fit, playing games for Middlesbrough and generally working himself back to full match fitness, neither coach nor player is willing to risk injury by playing on a sub-standard surface. This situation, however, presents a football-based complication for Rohr.
One full year and seven matches without a key player is a long time.
But the Super Eagles do not appear to have missed their leader. Ahmed Musa has led the team in Mikel's absence, doing so with calm but silent authority. In Mikel's absence, the Super Eagles have scored 11 goals and conceded just three as they cantered to their first AFCON appearance since 2013 with a game to spare.
Rohr appears to have found a formula that works for this Super Eagles team, with Alex Iwobi having settled into the advanced midfield role just behind the forwards that is Mikel's preserve. One wide forward position has been locked down by stand-in skipper Musa, the other by Samuel Kalu.
After the games in March, against the Seychelles and Egypt, there is not another FIFA match window until the end of the season in May. Which means that Rohr will have to shuffle his personnel to accommodate Mikel if the skipper eventually rejoins the squad in time for the Africa Cup of Nations in Egypt; such a shuffle most definitely will mean that one of the front four will have to give way.
Source: https://www.vanguardngr.com/2019/03/mikels-continuous-absence-keeps-rohr-nff-on-tenterhooks/