By Dayo Adesulu
After the 2019 elections, JAMB candidates are expected to write the Unified Tertiary Matriculation Examination, UTME. However, the date for the computer based testing   examination is uncertain as the previous date has been shifted from Saturday, 16th March and on Saturday,   23rd March, 2019 to unspecified date after the elections.
In place of the previous date scheduled for the CBT examination, the authorities of Joint Admissions and Matriculation Board (JAMB) has rescheduled its mock examination for Saturday, 23rd March 2019.
Its spokesperson, Dr. Fabian Benjamin had explained that the purpose of the mock examination was to enable candidates familiarize   themselves with the use of CBT, adding, "It would not be used for any assessment process."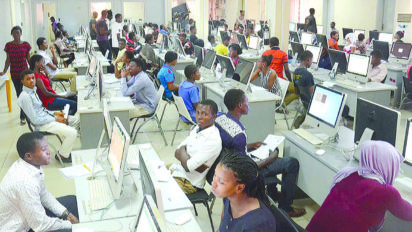 He clarification the insinuations from some quarters that marks from the mock examination would be added to scores obtained in the main examination.
"Mock examination was introduced in 2017 to give candidates the opportunity to familiarize themselves with the conduct of Computer Based Test, particularly, candidates who are not conversant with the use of computers," he  explained.
Besides, there are other preparations candidates have to put in place before the examination. Candidates are to begin the printing of their mock examination slips from Wednesday 6th, March. I hope you are aware that the examination board had released the novel to be read by all candidates who will participate in the 2019 UTME.
Candidates are to note that irrespective of their choice of course of study, they will   be tested on a general text on  "Sweet Sixteen" authored by Bolaji Abdullahi  for UTME, while the book titled:  "The Last Days at Forcados High School" by H. Mohammed is for Direct Entry Candidates.
Also, did you know that textbooks have been recommended for candidates sitting for any subject during the UTME?   All subjects have recommended textbooks for the 2019 examination. Any candidate who wishes to score high marks should adequately prepare for the examination using the recommended textbooks. Below are  some of the recommended textbooks for English Language and Mathematics.
JAMB recommended books for Use of English:  Attah, M. O.  (2013) Practice in Spoken English for Intermediate and Advanced Learners, Maiduguri: University of Maiduguri Press
Bamgbose, A.  (2002) English Lexis and Structure for Senior Secondary Schools and colleges (Revised Edition), Ibadan: Heinemann
Banjo, A. et al  (2004) New Oxford Secondary English Course Book Six for Senior Secondary Schools, Ibadan: UP Plc.
Caesar, O. J.  (2003) Essential Oral English for Schools and Colleges, Lagos: Tonad Publishers Limited
Daniel Jones  (2011) Cambridge English Pronouncing Dictionary, Cambridge: Cambridge University Press
Egbe, D. I  (1996) Mastering English Usage and Communication Skills, Lagos: Tisons
Elugbe, B.  (2000) Oral English for Schools and Colleges, Ibadan: Heinemann
Grant, N. J. H, Nnamonu, S. Jowitt, D.  (1998) Senior English Project 3, (New Edition) Harlow: Longman.
Idowu, O. O, Sogbeson, T. S, Adofo, A. K. Burgess, D. F and Burgess, L. J.  (1998) Round-up English: A Complete Guide, Lagos: Longman
Idris, U. (2001)  Oral English at Your Fingertips for Schools and Colleges, Lagos, M. Youngbrain Publishers
Igiligi, E. C. and Ogenyi, S. O.  (2010)Grammar and Composition in the G.S.M. Age, Enugu: Joe Hills Production Services
JAMB recommended books for Maths:
Adelodun A. A (2000)  Distinction in Mathematics: Comprehensive Revision Text, (3rd Edition) Ado –Ekiti: FNPL.
Anyebe, J. A. B  (1998) Basic Mathematics for Senior Secondary Schools and Remedial Students in Higher/ institutions, Lagos: Kenny Moore.
Channon, J. B. Smith, A. M  (2001) New General Mathematics for West Africa SSS 1 to 3, Lagos: Longman.
David –Osuagwu, M. et al  (2000) New School Mathematics for Senior Secondary Schools, Onitsha: Africana – FIRST Publishers.
Egbe. E et al  (2000) Further Mathematics, Onitsha: Africana – FIRST Publishers.
Ibude, S. O. et al  (2003) Algebra and Calculus for Schools and Colleges: LINCEL Publishers.
Tuttuh – Adegun M. R. et al  (1997), Further Mathematics Project Books 1 to 3, Ibadan: NPS Educational.
Wisdomline Pass at Once JAMB.
Moreover, unlike previous years where a candidate could be posted anywhere to write his examination, in 2019, the venue of the examination will be at any centre in the candidate's chosen examination town. The board enjoins all candidates to jealously guard all their details pertaining to the 2019 Unified Tertiary Matriculation Examination and (UTME/DE) Direct Entry.