By Dayo Adesulu
The West African Examination Council, WAEC, Tuesday released the West African Senior School Certificate Examination, WASSCE results (for private candidates, 2019-First Series), recording abysmal failure in English Language and Mathematics as only 26 per cent passed.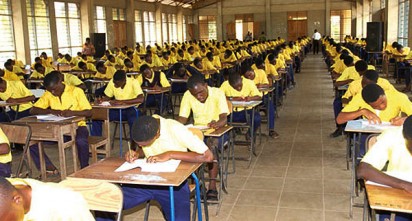 Speaking at its national office, Yaba, Lagos, the Head of National Office, Mr. Olu Adenipekun said: "A total of three thousand one hundred and two (3,102) candidates representing 26.06 per cent obtained credit and above in a minimum of five subjects including English Language and General Mathematics."
He said that the results of three hundred and seventy-six (376) candidates, representing 3.16 per cent of the total candidature for the examination are being withheld in connection with various reported cases of examination malpractice.
According to him, the cases are being investigated, adding that reports of the investigations would be presented to the appropriate committee of the Council for consideration.
In the breakdown of the results, the HNO said: "A total of twelve thousand two hundred and two (12,202) candidates registered for the examination, out of which eleven thousand eight hundred and ninety-two (11,892) candidate's sat for the examination.
"Of the total number of candidate's that sat for the examination, six thousand one hundred and eighty (6,180) were male, and five thousand seven hundred and twelve (5,721) were female, representing 52% and 48% respectively.
"Eleven thousand six hundred and eighty (11,686) candidate's, representing 98.27% have their results fully processed and released, while two hundred and six (206) candidate's representing 1.73% have a few of their subjects still being processed due to errors traceable to the candidate's in the course of registration or writing the examination.
"Such errors are being corrected by the council to enable the affected candidate's get their results fully processed and released subsequently.
"The analytical of the statistics of candidate's performance in the examination shows that:
Eight thousand seven hundred and eighty-two (8,782) candidate's representing 75.15% obtained credit and above in two (2) subjects.
"Seven thousand three hundred and thirty-two (7,332) candidate's representing 62.74% obtained credit and above in three (3)subjects.
"Five thousand eight hundred and fifty (5,850) candidate's representing 50.06% obtained credit and above in four (4) subjects.
"Four thousand three hundred and fourteen (4,314) candidate's representing 36.28% obtained credit and above in five (5) subjects."
V