By Jacob Ajom
Nnamdi Ehirim grew up around Enugu Tennis club in eastern Nigeria, watching bigger players play on a daily basis. He began playing at a young age and the likes of David Imonite, Yakubu Suleiman and Sadique Abdullahi were his predecessors. I was a junior player when they were already stars. We saw them as our idols and they inaspired us a lot."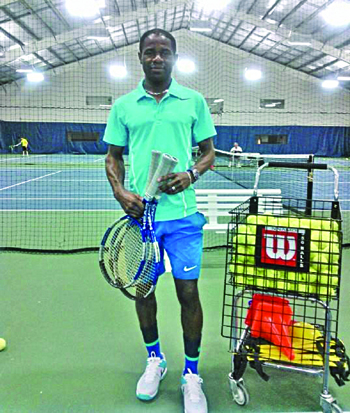 West Ham launch probe after Salah abuse
Ehirim grew up to play become Nigeria's number one and as well played  for his country. He said he cherishes every moment he had with the Nigeria national team as a Davis Cup player, insisting that his desire to contribute to the development of the game back home was borne out of the need to pay back to a country that did so much for him as a budding star.
Currently in the USA, where he trains young children(and adults too) how to play tennis, Ehirim assists Nigeria's non-playing Davis Cup captain Rotimi Akinloye with the training of the national Davis Cup team and upcoming players.
He shared his US experience with Saturday Vanguard Sports: "I have worked at my current club Centercourt and Sports Club in New Jersey for up to 17 years and I have helped a lot of kids here achieve their targets of getting scholarships and making their high school and college tennis teams here in America… Among them are Brianna Gibbs who won the 2016 New Jersey County Sports Person of The Year following her achievements as a top ranked singles player, number 1 singles for her school.
She got scholarship to Georgetown University."
He disclosed that another girl that gained scholarship was Collette Gilbert who plays for her University in singles category.
Apart from the fast rising Gibbs, another notable upcoming star that gained national American junior ranking in 2016 from Centercourt and Sport Club is Samuel Wagner.
Ehirim won back to back men's ITF tournaments in Frankfurt and Birmingham 3 years ago. He recalled, "it was a special moment for me as that propelled my world senior rankings to top 60 in the ITF world ranking". "He remains a strong advocate of collective efforts to revive the local game as in his words,"the way things are going, the local game might just go extinct if urgent action is not taken.
"It has become an imperative that these young players need help. There are no tournaments, no sponsorships. How do they survive?" he asked, adding, "the situation calls for those that have anything to do with tennis to pull resources together in order to save the sport from extinction in the country."
He works closely with current Nigeria's top two players who take part in ITF tournaments Ikechukwu Iloputa and Christian Paul. Last December while in Nigeria on vacation, the former Davis Cup player organised a week-long clinic for junior and senior players and the two players were part of the programme which was highly commended by the Tennis Federation of Nigeria. "I am determined to see our kids grow, succeed and bring back the glory days to Nigeria tennis," Ehirim said.
Source: https://www.vanguardngr.com/2019/02/nnamdi-ehirim-i-want-to-help-our-kids-grow-in-tennis/