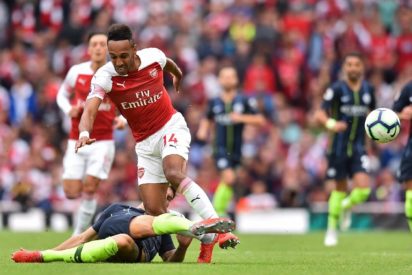 Ever wondered what it is like to play the way Arsenal F.C. does? Most football enthusiasts worldwide admire the trademark swashbuckling style deployed by successive teams from the North London-based club.
This expansive style of play was further reinforced on 22 October when the Gunners completed eleven passes before striker Pierre-Emerick Aubameyang tucked the ball into the back of the net during a 3-1 Premier League home win over Leicester City. The goal, which went viral on social media, sparked the usual conversations about Arsenal's beautiful playing style.
But how do you play the Arsenal way? Interestingly, MTN Nigeria, Arsenal's official telecommunications partner since 2015 has enabled the club to connect with its teeming Nigerian fans, as well as coaches, trainers and stakeholders.
In a bid to further deepen its partnership, MTN and Arsenal  decided to set up a coaching clinic to teach talented teens and coaches how to play the "Arsenal Way." During the coaching clinic which held in Lagos from October 26th to October 28th, Head coach of Arsenal Soccer School Simon Mcmanus gave an in-depth insight into what makes the gunners thick and forms the basis of the club's style of play.
Simon tells the kids to "Always be together, act with class and "Always move forward".
Source: https://www.vanguardngr.com/2018/11/arsenal-mtn-organise-coaching-clinic-in-lagos/