Super Eagles striker, Kelechi Iheanacho has warned that the team will not approach Saturday's African Cup of Nations qualification tie against Bafana Bafana with kid's gloves as last year's 2-0 defeat in hands of the South Africans in Uyo is still fresh in the Eagles players' memories.
Kelechi stated that the Eagles have improved since that match and they are out to take their pound of flesh.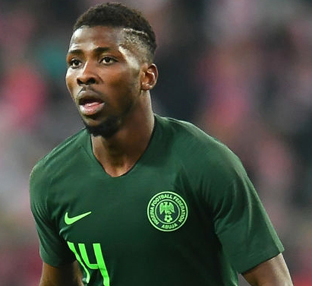 "The first leg is still fresh in our memories. We definitely want to take revenge for that defeat,"
"We are much more better now than we were as of the time we played them in the first leg so I am confident we will get a win," said Iheanacho.
He added that the Super Eagles can go for the AFCON title in Cameroon
"As you can see, we are getting better and better.
"We learnt a whole lot from the World Cup, and since then we are improving as a team and also individually.
The Super Eagles are expected to fly out today from Benin City by 5.00pm on chattered flight to Johannesburg, South Africa. On Friday they will feel the turf of the FNB Stadium venue of the important clash on Saturday.
Source: https://www.vanguardngr.com/2018/11/afcon-uyo-defeat-still-haunts-iheanacho/