Former Olympic Games football gold medalists Cameroon find themselves among minnows this week when African qualifying for the 2020 Tokyo tournament kicks off.
The central African country host Chad in Yaounde Friday with the second leg of the first round tie set for N'Djamena next Tuesday.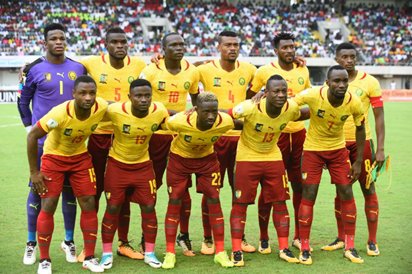 Cameroon and Chad are far apart when it comes to football achievements with the former qualifying seven times for the World Cup, a record for an African country.
Chad are among the weakest football nations in the continent, never making an international impact at national team or club levels.
A Cameroon team including Samuel Eto'o won the 2000 Sydney Olympic Games gold medal match against Spain on penalties after a 2-2 draw.
However, poor results in the past two African qualifying competitions have prevented the central Africans being among 13 countries given byes to the second round.
In a 2012 London Olympics qualifier, Cameroon lost on penalties to Tanzania, and were ousted by Sierra Leone on away goals in a 2016 Rio de Janeiro eliminator.
With the Chad fixtures taking place during an international window, Cameroon can pick young foreign-based professionals as the qualifiers are an under-23 competition.
Ghana, bronze medalists at the 1992 Barcelona Olympics, are another country who must compete in the first round, facing fellow west Africans Togo in Kumasi and Lome.
Like Cameroon, the fall from grace of Ghana can be traced to early exits from the last two qualifying competitions.
They were shocked by Sudan in a 2012 eliminator and eliminated by Congo Brazzaville after a penalty shootout in the last edition.
Guinea were among the African contenders at the 1968 Mexico City Olympics, but have not qualified since.
They set off on a journey they hope will lead to Japan by travelling to Nouakchott for a match against Mauritania, a rapidly improving football nation.
Falcons captain says they don't need friendlies to win AWCON
It was also a long time ago that Sudan made their sole appearance, at the 1972 Munich Games, and their 2020 campaign begins away to the Seychelles.
Mauritius, the other Indian Ocean island state competing, visit Kenya, and there are also a number of match-ups between neighbouring countries.
Violence-torn Somalia make a rare international appearance, but the security situation in capital Mogadishu means the home fixture against Ethiopia has been moved to Djibouti.
First legs are scheduled for Wednesday, Friday and Saturday with the return matches on Sunday and Tuesday.
Source: https://www.vanguardngr.com/2018/11/former-olympics-football-gold-medalists-cameroon-among-minnows/