Highly rated German-Nigerian forward Noah Joel Sarenren-Bazee made his first Bundesliga appearance of the season for Hannover 96 in their 2-1 win over Wolfsburg.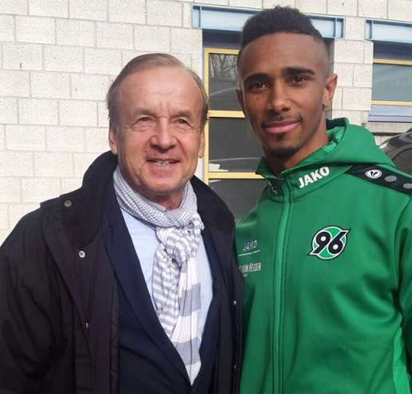 Twentytwo-year old Bazee was handed a start in his first appearance of the season and he didn't disappoint for the period of time he was on the pitch before his substitution in the 70th minute.
Bazee was effective in defence and exciting on the ball as well. His performance earned him a high rating among players who featured for his team in the game.
This season he was relegated to the B team of the Bundesliga side and after proving his fitness in three games for the team in the German fourth division he is back with the first team.
Coach Gernot Rohr has his scouts on the forward who pledged his allegiance to Nigeria ahead of Germany but fitness and injury denied him the chance to make his debut for Nigeria.
He was with them at their training camp in London but had to leave after falling ill few days to the friendly game against Senegal where he would have made his international bow for Nigeria.
Mourinho hails 'fantastic' comeback as United steal Ronaldo thunder
Source: https://www.vanguardngr.com/2018/11/rohr-watches-nigeria-forward-bazee-against-wolfsburg/