Governor Ifeanyi Ugwuanyi of Enugu State has stated that the deliberate policies introduced by his administration have restored the legacy of the state as a breeding ground for sporting talents in Nigeria.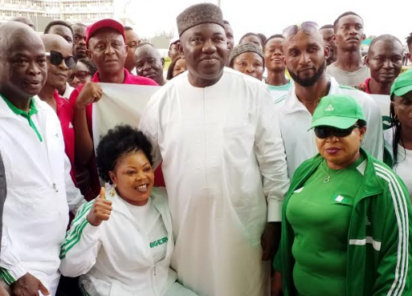 Gov. Ugwuanyi added that the policies have also ensured that the state reaped the full benefits of sports and sports tourism to the socio-economic development of the state.
Speaking while receiving the National Sports Festival Torch, popularly known as Torch of Unity, from representatives of the Federal Ministry of Sports, Abuja, when it arrived Enugu State, Gov. Ugwuanyi noted with gladness that "the results from our investments in this regard have been most rewarding and encouraging".
The governor disclosed that the investments were responsible for the remarkable feats recorded under his administration by the Rangers International Football Club of Enugu, which lifted the 2015/2016 Nigeria Professional Football League trophy and the recent 2018 NFF/AITEO cup after a dramatic comeback.
His words: "Just a couple of weeks ago, our darling Rangers International Football Club of Enugu won the Challenge Cup now known as the AITEO Cup after 35 years of its last triumph in the competition. The club had broken another jinx two years earlier when it lifted the 2015/2016 Nigeria Professional Football League trophy for the first time in 32 years. Also in the same year, an athlete from Enugu State, Mrs. Lucy Ejike, won the gold medal at the Paralympics held in Rio De Janeiro, Brazil".
Speaking further, Gov. Ugwuanyi maintained that "Enugu State is reputed to be one of the centres of sports excellence in Nigeria having produced many famous sports men and women", stressing that the state has participated in all editions of the National Sports Festival since its creation in 1991.
The governor, who reiterated his administration's conviction that sports harbors tremendous opportunities for economic growth, empowerment, employment generation, poverty alleviation as well as progressive youth and social development, also pointed out that "our schools have been providing the basic platform and environment for the discovery and nurturing of young talents" through the inculcation of sports awareness among school children while strengthening the state's annual school sports festival.
"I want to assure you that we are leaving no stone unturned to ensure a laudable performance of the state at the 19thNational Sports Festival scheduled to hold next month in Abuja", Gov. Ugwuanyi said, while appealing to the private sector and other stakeholders in the country to complement the efforts of government by investing more robustly in the state's sports sector "so that we can collectively, harvest its vastly untapped treasures for the benefit of our people more especially, the youth".
Source: https://www.vanguardngr.com/2018/11/investments-in-sports-have-restored-our-legacy-says-gov-ugwuanyi/