Premier League champions Manchester City attempted to bypass UEFA's Financial Fair Play (FFP) regulations by allowing their Abu Dhabi-based sponsors to make cash injections, Der Spiegel alleges on Tuesday.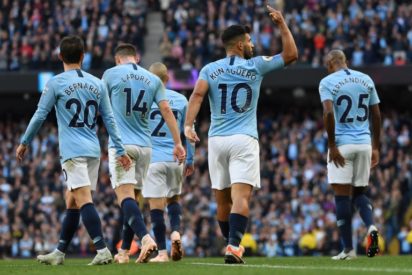 The German news magazine said it had seen internal documents in which the club's officials discussed how to wipe out a shortfall of almost £10 million ($13 million).
The allegations are the latest in the so-called Football Leaks series.
FFP rules were introduced to curb European sides racking up huge debts and to put limits on how much clubs could lose over prescribed periods.
City were fined 60 million euros by UEFA in 2014 for breaching those rules, but the two parties reached an agreement under which the club would get 40 million euros back if they stuck to the terms of their settlement.
Der Spiegel says City were in danger of violating the FFP rules after they sacked manager Roberto Mancini in 2013 after the club failed to successfully defend their title.
The magazine claims that in an internal email, City's chief financial officer Jorge Chumillas wrote: "We will have a shortfall of 9.9m pounds in order to comply with UEFA FFP this season. The deficit is due to RM (Roberto Mancini) termination. I think that the only solution left would be an additional amount of AD (Abu Dhabi) sponsorship revenues that covers this gap."
To evade UEFA sanctions, another City executive allegedly suggested "a backdated deal for the next two years (…) paid up front".
– 'Do what we want' –
Der Spiegel claimed that 10 days after the end of the season, Chumillas announced his decision — sponsorship contracts would be adjusted, with the club's main sponsor Etihad paying £1.5 million more, the Abu Dhabi tourism authority chipping in £5.5 million and investment fund Aabar £0.5 million.
Crucially, all the sponsors were allegedly asked to act as if the deal had been agreed at the start of the season.
When Chumillas asked his colleague Simon Pearce if they could change the date of payments from the sponsors, Pearce allegedly answered: "Of course, we can do what we want."
In a repeated statement they first issued last week, City said they would not comment on what they described as "out of context materials purportedly hacked or stolen from City Football Group and Manchester City personnel and associated people."
The club's manager Pep Guardiola insisted he wasn't aware of any wrongdoing.
"I'm completely honest, I don't know what happen because I'm a manager. I'm focused on what happens on the pitch, in the locker room," said Guardiola on Tuesday on the eve of City's Champions League clash with Shakhtar Donetsk.
"The business and how they handle this sort of situation, I am completely out.
"But I am part of the club, I am supportive of absolutely the club and we want to do what we have to do in terms of the rules."
The accusations hinge on City's insistence that the Abu Dhabi-based companies are independent sponsors and not merely tools of the Gulf state.
If clubs can show that revenues come from sponsors and not just their owners, they can make larger expenditure on players without falling foul of the FFP rules.
Some of City's European rivals, including Bayern Munich and Atletico Madrid, have complained about such practices.
In the first allegations on Friday, French investigative website Mediapart claimed Gianni Infantino — the current FIFA president who was then UEFA's general secretary — had "directly negotiated" the agreement with City to reduce their 2014 fine.
Mediapart claimed Infantino deliberately bypassed UEFA's financial control authorities by proposing that City actually pay a fine "of 20 million euros instead of 60."
FIFA said the claims were an attempt to "undermine" Infantino.
Source: https://www.vanguardngr.com/2018/11/manchester-city-sought-to-bypass-financial-fairplay-rules-report/