By Tony Nwankwo
The maiden Roller Sports Federation of Nigeria championship will roll off November 22, 2018 at the National Stadium,Abuja, with the prize money of N100,000 for the gold medal winner, N70,000 for silver  and N50,000 for the bronze winner.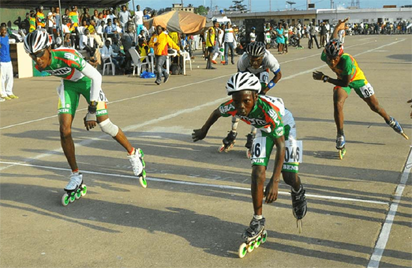 RSFN founder and president, Comrade Joseph Evah, said the competition was intended to encourage young roller skaters in the country with the hope of dissuading them from rolling in the streets where they endanger their lives.
According to Evah, "Roller Skating is a new global sport but then we watch young people endanger themselves skating along the streets without adequate protection.  However, as a federation, we are speaking with security agencies, the Police and Road Safety people for the protection of these lads, who are expected to register with RSFN to benefit from government approved plans, participate in the competitions and follow the rules and regulations guiding global roller skating", he said, adding, "without adequate guidance or protection these roller skaters endanger themselves and even other road users. And this we intend to stop".
About 20 States and clubs across the country are expected to participate at the Abuja contest next month.
Evah  He appealed to state governments to join the federation and encourage their young people to participate in the competitions.
For power to return to South-West in 2023 vote Buhari – Fashola
Source: https://www.vanguardngr.com/2018/10/roller-skating-championship-makes-debut-in-abuja/